We already discussed big data's significant role in various industries & how industries are accelerating their growth by implementing data analytics. In this blog we are going to discuss how big data analytics is helping automotive industry to maximize its productivity with high volume, velocity & variety.
OVERVIEW
The automotive industry continuously faces many dynamic business challenges. Those automotive players who have the ambition & passion to excel, Data Analytics provides them an excellent opportunity to stand out from the crowd. Analytics provides significant competitive advantages. The global automobile market landscape changed because of various factors like globalization, increased competition & cost, innovative marketing conditions and much more. Technological innovations are one of the most important elements which can drive optimum productivity. With the technology of autonomous vehicles, sensors & artificial intelligence automobile industry is on the brink of a revolution.
In this blog, we are going to highlight some of the major opportunities for automotive players to benefit from analytics, which can drive more growth & maximum market share. In an increasingly competitive market, where small innovations can become key success factors, it is time to think about data analytics.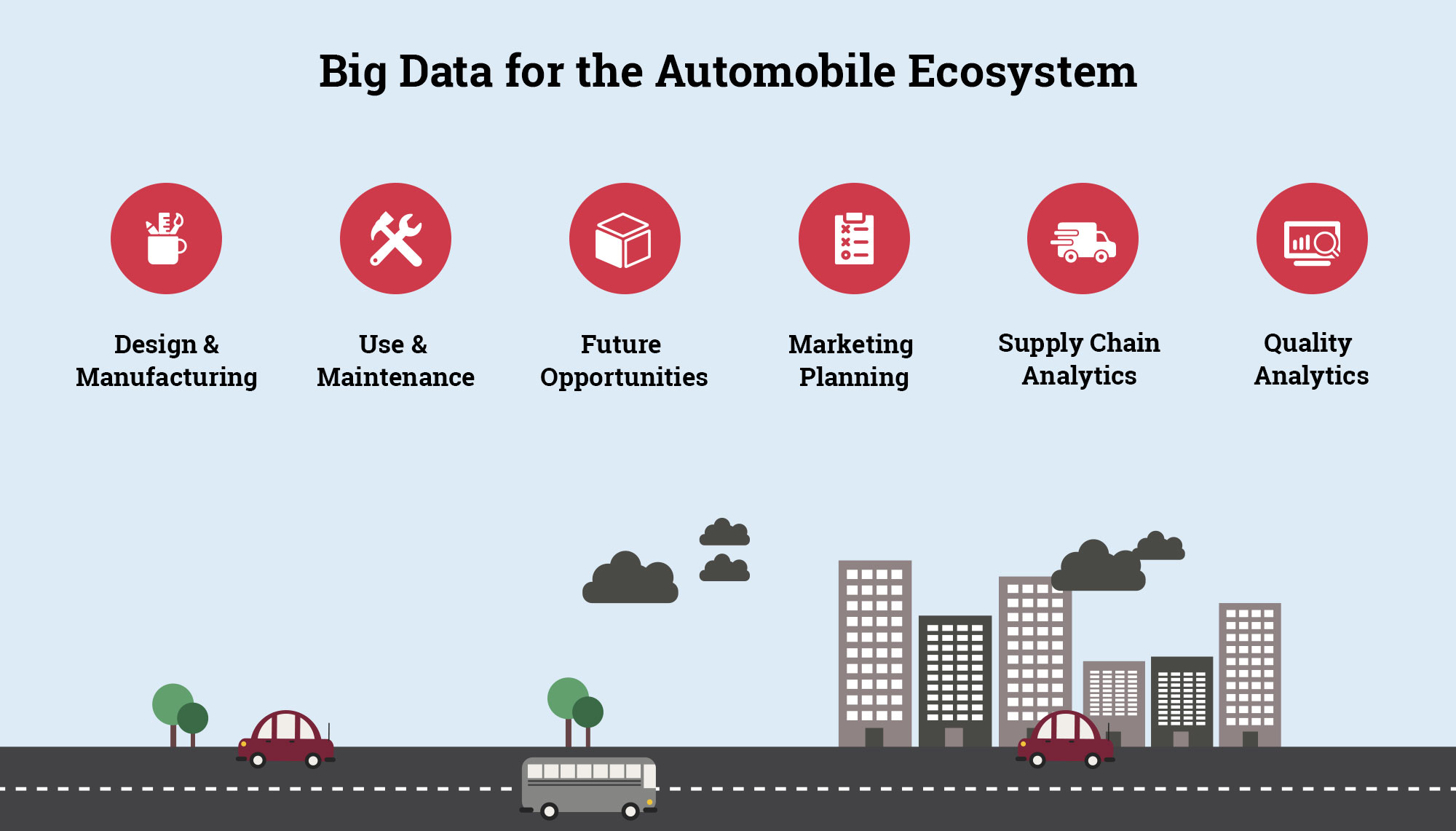 Design & Manufacturing
Data analytics can be used to design & manufacture vehicle. Designing errors are sometimes very costly once they advance from sketch level to production unit. With the implementation of analytics in the design & workflow software, we can find flaws while the vehicle is still in the blueprint stage. It will save a lot of costs & more importantly time.
Analytics can track changes in design, quality of the work, entire production process as well as the safety of the products & its parts. It can prevent do-overs and can ensure supreme quality. This can also cut down significant cost associated with manufacturing & warehouse management.
Use & Maintenance
The biggest challenge in the automotive industry is fleet management & fuel management. Data analytics can help drivers to optimize the route as well as to monitor the status of everything. With the help of sensors and data analytics, we can identify damaged parts of the vehicle and can change or repair before it interrupts businesses or daily life.
Big automotive companies are using performance data analytics across the fleet to understand how to maintain vehicles, which can boost vehicle performance and mileage. As a result, it will reduce maintenance cost. Analytics also helped route planners to identify the shortest distance to their destination. Overall analytics can improve efficiency & trim maintenance cost.
Future Opportunities
As consumers need more comfort & high efficiency in their vehicles, engineers are doing all possible research to meet the expectation. They found data analytics can a vital resource to understand how future iterations of the vehicle are made. By data mining, automotive companies can do advanced cost performance analysis. They can identify which parts of the vehicle constantly needs replacement/repair so that they can take it out and replace with the higher quality part. It will avoid warranty costs, & can help cost reduction in the longer run.
By understanding market trends & future expectations, automotive companies can start planning future possibilities & can stay in the race. By shortening vehicle engineering cycle, optimizing energy and reducing manufacturing cost, automotive companies can launch innovative, reliable & more sustainable vehicles.
Marketing Planning
When all sources bring together to analyse your overall marketing spend, it can give automotive companies an opportunity to better understand which strategy is working perfectly for them & they can develop a more reliable marketing budget plan, which can give a higher return. Marketing analytics can give exact statistics of the contribution of any specific campaign to the annual sales figure.  A performance dashboard can be built to monitor all the data sources & how they are working together to focus marketing spends. Big data can be used to understand competitor marketing strategies & business insights to prepare yourself for future challenges.
Another major advantage of data analytics which can add a lot of value to your marketing strategy is to learn & understand customer buying habits & trend. It can really boost your sales as you will be able to get all the data related to your customer purchase habits. As automotive companies spend the highest amount in global advertising & promotion than any other industry, marketing analytics can be proved as a billion dollar tool for them.
Supply Chain Analytics
Data analytics helps automakers to minimize risk & maximize growth by optimizing the entire supply chain system. Advanced supply chain analytics can act as the most disruptive & important technology which can put the foundation for long term change management of automotive industry. By the use of analytics, the supply managers can identify the right vendor or partner to deal with.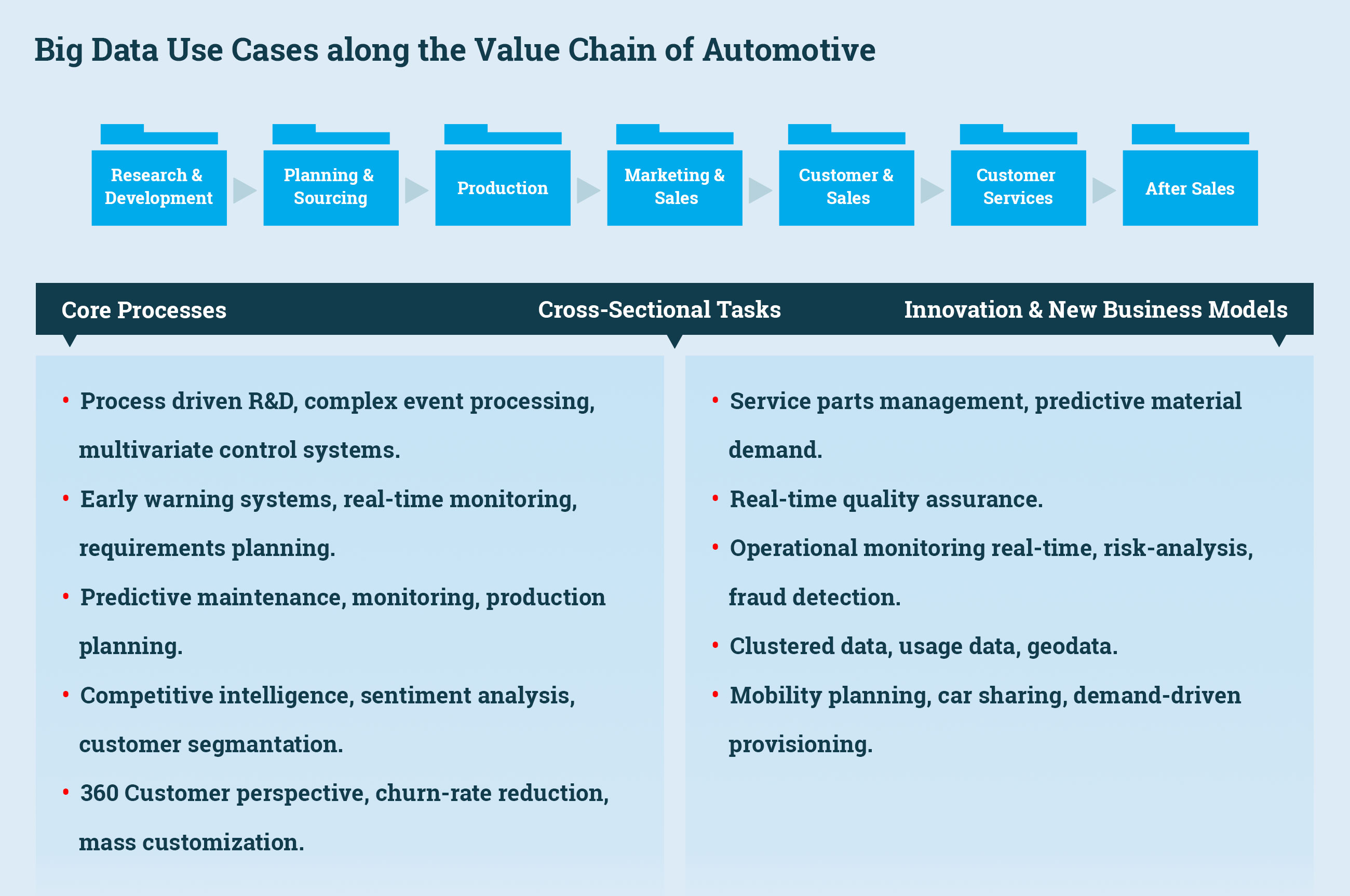 You can also identify what are the channels, your customers are using to contact you. Inventory can be optimized & products can be distributed based on real-time demand. Cost efficiency, cost reduction, and spend analytics will continue as top business priorities in supply chain management. Supply chain risks & supply chain tracking can be improved with data analytics.
Quality Analytics
Quality Analytics allow to identify any quality related flaws & resolve that at a very early stage of product manufacturing. This resulted in reducing cost control concerns & can provide superior customer satisfaction. Analytics can process a large amount of data & offer various analysis methods. Thus, it will analyse product lacunas in advance & provide opportunities to manufacture defect free products. This will lead to considerable increase in efficiency & lower maintenance.
Conclusion
The automotive industry has become more data driven. Vehicle sensors, GPS tracking, automated manufacturing processes, optimized inventory system and more are producing a large volume of data every day. These data should be analysed and optimized. Apogaeis predictive analytics solutions enable automotive companies to derive value from this data by extracting the hidden information. It can be helpful in better understanding of the product usage, and manufacturing processes to ensure quality and customer satisfaction. To know more, please Contact Us.
ALSO READ: "The Top 7 Emerging Technologies of 2017 – Without a Shadow of Doubt"