Technology is continuously changing and also transforming many industries around us. Big Data, Cloud Computing, Social Media and Mobile Technology are the key trends in making any industry optimize its business process. Business Process Outsourcing (BPO) sector is no different. All other industries around the world rely on BPO to keep their enterprise running smoothly. But, as we all know BPO industry is highly tech-savvy, the transformation rate is significantly high. In order to ensure that you are matching the standards and expectations on time, you need to scale up your business process under the current technology trends.
Previously, BPO sector was limited to provide solutions towards cost reduction and profit optimization. But later technology has a very significant role in changing the evolution of the BPO sector in recent years. Now BPO sector has emerged as a value addition to any other industry. A perfect stage is set as businesses want to cut down additional back office cost and looking out for innovative ways to add revenue. In today's business landscape, businesses which have a competitive advantage are the ones that leverage the power of technology.
Current Scenario
Global IT/ITES/BPO companies are slowly expanding their service line and developing new business models in response to technological trends. Especially BPO industry is evolving around mega technological trends like big data, mobility and cloud computing. There has been an analytical revolution in this sector since last few years. Big data has powered BPO sector in a big way. Industry leader like Genpact has a 5000 plus analytical team accounts for it 15% revenues. Many other emerging analytics firms are focusing more on big data and moving beyond MIS reports. BPO analytical firms are responding to analytical reforms and allow real time data tracking and robust business decision making.
Global ITES companies have started using cloud platform to expand their services to the other side of the geographical location. Many businesses are moving their data storage and business applications to the cloud.

BPO companies have started using social media analytics for brand building, customer engagement, and customer support. Most of the outsourcing companies in the USA are following these collaborative models to enhance their user satisfaction and productivity.
There are many ways technology is changing the landscape of BPO industry, but largely we can classify them into four important trends. Let's check them;
Big Data & Analytics
Data analytics is one of the most adapted technological tool in the past decade for many industries. Real time business intelligence is a very critical tool which can enable organizations to achieve a competitive advantage. Business process outsourcing companies use data analytics tools to manage a huge amount of data to deliver superior quality of business solutions. There are various BPO service providers who realised the value of being able to manage useful information from the huge volumes of business data they handle on an everyday basis. Predictive analysis can differentiate the quality of services provided by BPO companies in a long run. Many companies are now depending on predictive analysis to make their business solutions more productive and offer better customer service. With the opportunities that data analytics technologies have created, businesses are finding it strategically more useful to take a proactive approach in resolving challenges and opening doors for opportunities.
Data analytics is very much relevant for BPO companies because of the volume of data they gather. By analysing the data, they can generate strategic insights for their clients and can also engage more customers by retaining them. The rise of disruptive technologies has completely transformed BPO- customer relationship now. Businesses now need to focus more on providing best customer service by mapping individual preferences while delivering personalized services. Data can play a very crucial role in achieving this. A Gartner report says, 70% of the most profitable companies will be relying on Big Data for real time predictive analysis by the year 2017.
Besides building a healthy BPO- customer relationship, the predictive analysis also help in enhancing customer satisfaction. BPO service providers can design programmes by identifying customers who are going to add more revenue and can build a one-to-one relationship with them and later can create a community of their most loyal customers. Big data can be used by BPO companies to help their employees achieve key metrics by analysing what are the key service demands and provide deliverables accordingly. So, businesses can optimize their work force and increase employee productivity at the same time.
42% of high performing BPOs, which are the ones that get full value from their BPO relationships said that analytics is a major component in their service delivery package.
Accenture Report
It's very clear that big data is the most important source of value creation in any industry and it's high time for BPO service providers to gear up for implementing predictive analysis which can be a game changer for their business and client relationship.
Cloud Platform
Cloud computing took data storage and data sharing in BPO industry to another level. Data retrieval and sharing have become really fast and easy. Businesses stay competitive and advanced by moving their data to the cloud platform. They can eliminate unused space and storage and also at the same time reduce huge consumption of energy. Cloud platforms are cost effective. Cloud storage eliminates the need for IT department and servers which require large space and maintenance cost. Cloud computing can be the biggest influencer for BPO service providers in building industry specific solutions.
The outsourced services are better delivered with the use of the cloud. The cloud platform promotes easy collaboration and communication between the outsourcing party and the virtual/remote team. Also, this allows new or updated instructions to be relayed quicker.
Cloud computing can provide fresh air to the BPO sector by better usage of data and reduction in the overall costs. Cost is a significant factor for BPO industry, but technological innovation is the prime concern. To develop as a high-performing BPO, you have to deliver value added services with zero compromises to your clients. SaaS, PaaS, and IaaS suffice the organization's IT needs that are ever growing today, the use of SaaS (Software-as-a-service) can help the BPO to keep pace with the constant change of technology at an economical cost.
The use of cloud computing in BPO due to improved platform concurrency increases service deliverability. Cloud hosting provides more options, the BPO organisation does not have to worry about the management of hardware/software. Cloud hosting providers are now considered as strategic partners of high-performing BPO.
Automated Systems
Every business in today's world expects to be technologically advanced and efficient. Customers are no longer willing to wait to get what they want. If you're unable to resolve their problem or address them, they will choose your competition. So, the growing dislike for slow service and support providers has triggered the evolution of automated systems. Automated systems are being used to answer customer queries as soon as possible. It saves a lot of time as well as cost. BPO service providers can dedicate their entire time in enhancing their service quality while automated systems will take care rest of the operations.
Automated answering machines became really popular in no time whatsoever. But still many BPO service providers are not sure whether they should go for this or not. But, when it comes to automated systems, most of them are holding this cost saving tool in both hands.
Business process automation is the use of software, systems, and processes that require less human intervention than traditional processes. Automation is most prominently used where processes need to be standardised. Human intervention can be eliminated so that there's less risk of error, or inefficiency due to an absence or other conditions. In today's business environment, processes and systems are automated for the benefits of cost and time efficiency, error reduction, and resource and energy conservation.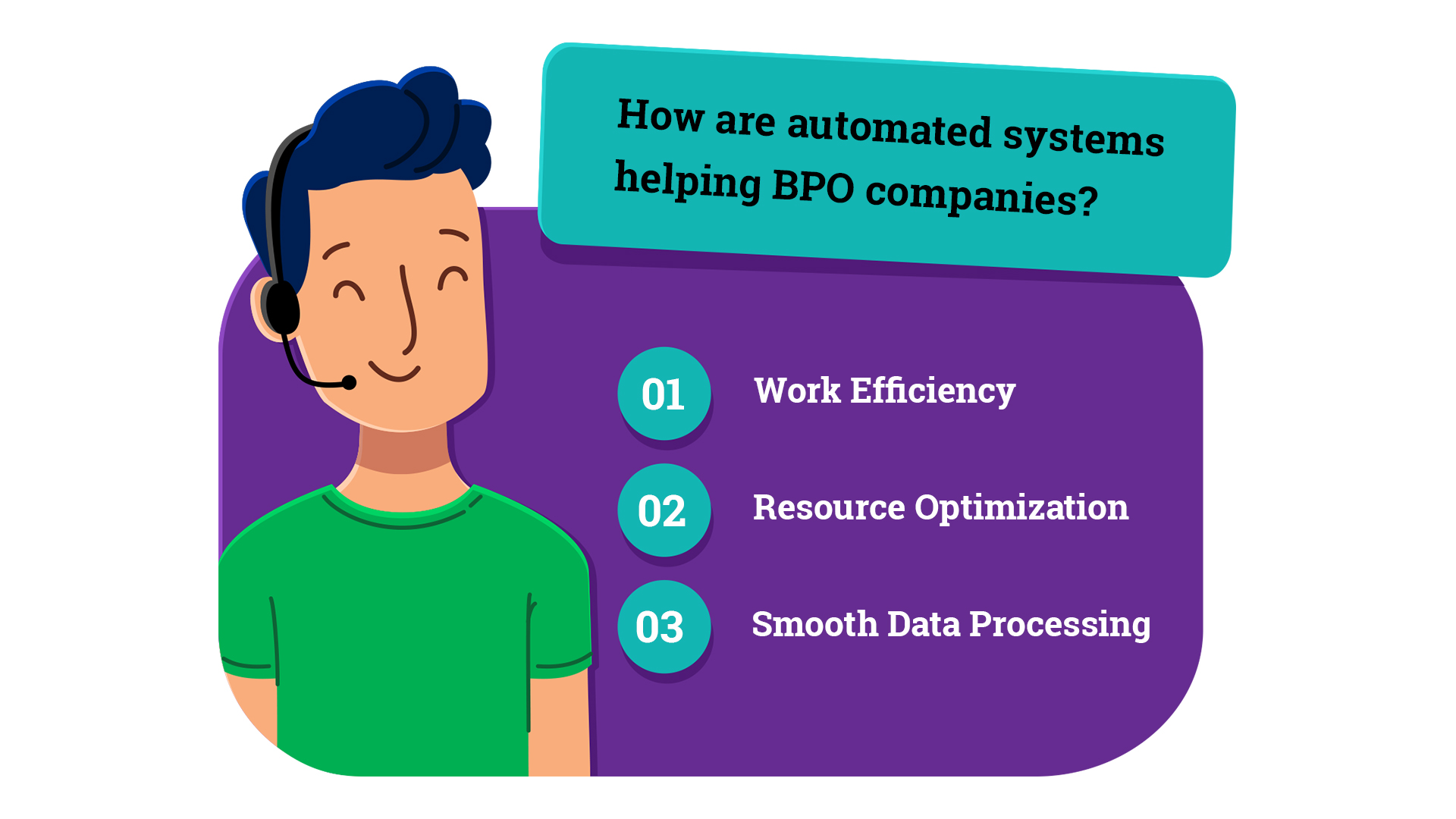 To improve the bottom line, BPOs are using automated systems in order to perform cost cutting, time saving and optimizing resources.
Diverse platforms to reach customers
Those days are gone, where emails and phone calls were the only medium between the service provider, business and customers. Today, many effective communication channels are being used for instant support. Mobile applications are playing a major role here. They changed the way customers approach service providers to resolve any issue. Social media platforms are also one of the most preferred media of communication. All these latest mediums in communication technology are rapidly embraced to facilitate easy and quick queries resolutions.
BPO companies are using all possible platforms to reach out to their customers as well as potential customers to connect, educate, engage and provide support. Technology is playing a very crucial role in optimizing all these mediums and providing a hassle free communication.
We learned, which are the technologies transforming BPO industry. Now let's see how they are doing it;
Value Addition
All these trends are powering the role of technology in BPO sector which is being driven by businesses and their customers. BPO service providers are moving forward by offering innovative solutions through technology. Through technology backed services, customers will get excellent service and more return on their investment, while BPO service provider can maximize its profit.
Many of the large BPO service providers are now working on providing end-to-end business solutions to other industries. IT is an enabler for them, and sometimes it is a differentiator. The growing opportunity of the BPO market requires greater levels of automation through technology. BPO industry is considering IT as a way of achieving incredible growth.
After adding data analytics, cloud platforms, mobility solutions to their business model BPO providers are putting their steps into top technology enable industry list. Business outsourcing services are collaborating human processes and automation via technology. In short, they are adding a lot of value to the existing business model as well as future growth.
Transforming Processes
Decade back businesses were outsourcing processes mainly for cost reduction and time saving purpose. But with the introduction of new mega trends in technology, businesses are viewing business problems and addressing them in a much more optimized approach. This changed the landscape of BPO service providers, as they started to offer solutions which can modernize activities. The introduction of these new solutions are truly transforming how enterprise work will be conducted in coming years.
The sudden rise of importance of data and the related technology also enabled businesses to use the data they have. BPO industry started helping companies explore big data. We are witnessing a period where BPO sector is coming out from the shadow of a cost cutting and process optimizing to adding real business value.
BPO service providers are able to focus on services that improve the business due to the increasing use of process automation robots, which carry out the grunt-work. Businesses are using software that automates processes as an alternative to offshore BPO services. When workloads spike, the business does not have to pay its outsourcing service providers for more human resources.
Securing Data
With the ever growing technological advancements and the increasing use of Internet worldwide, the data security and privacy have always been a primary concern for the business process outsourcing companies as they are responsible for the stakeholders including the vendors, suppliers and the client-companies. Since most of the transactions take place over the internet and in most cases the data processing is done by offshore BPO service providers, they demand secure environment. In fact, the recent studies reveal that, at times, vendors even considered amending the contract agreements so as to make these companies liable for breach of security.
But technology is helping them to overcome this fear also. Control over technology, control over data, control over employees, control over the cloud infrastructure, disaster recovery and management system are securing the data and making BPO one of the most secure industry when it comes to manage and control data.
Our Take
Technology is advancing at a stunning pace and continuously changing the world around business significantly. The growing technology could open up an opportunity for the BPO companies to adapt and lead. The global BPO industry has had a dream run well over past decade and it witnessed innovative business solutions. The future of BPO industry is dependent upon flexibility and the willingness to adapt new growth and technological drivers.
If you are looking to join the technological revolution and change the way you work and provide service to your clients, you can start now. Put your first step by connecting with one of our consultants. Apogaeis is the most trusted technology partner for many global BPO companies. Our innovative customized software solutions are one of the keys for many BPO service providers. Let's connect today to transform your business process.  Contact Today to get a FREE CONSULTATION and a FREE quote within 24 hours.