We are part of a knowledge-based society, where technology acts as a tool for empowerment and continuously exploring the potential for innovation to revamp the way education has traditionally been disseminated. Today the entire education system is evolving more around the digital world & time has come to understand the need to implement effective solutions to make the system more optimized.
Technology in Education
The challenge, which is being commonly faced by many educational knowledge providers is how to harness the learning within the classroom and at home. Technological innovations depend highly on adaptability & implementation of ideas. As the generation is changing with technology, their observation power, understanding power and learning power are also changing. It is becoming more visual and digital. So, accordingly, the education service providers have to bring the necessary changes in their knowledge sharing process.
The question arises here is, can technology revamp educational system? What will be the impact of ICT? It is not easy to evaluate the effectiveness, but outcomes will come for sure. Technology can improve certain things in education delivery system, which are;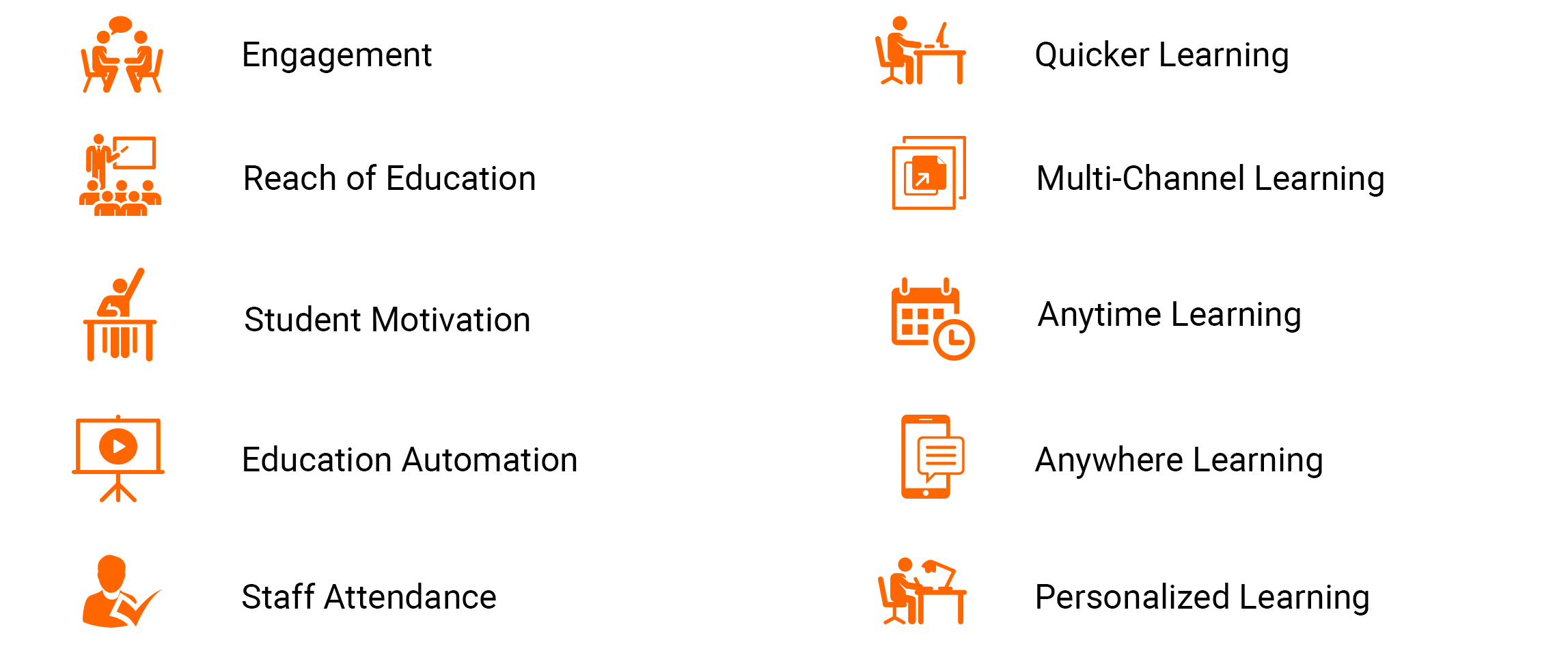 In education, there are two sides, I. Students and II. Facilitators
It is very important for both of them to cooperate and collaborate to get the best results. Though classroom study is still the main way of providing education, but this way is changing. Globally 6% of the students have a mobile computing device provided by the school. The number is expected to rise to 11% by 2017. Personalized learning has increased its importance. Whiteboard is slowly getting replaced by laptops, notebooks, and tablets.
Technological Innovations which are Transforming Education Today
Digital Content
The most notable transformation brought to the education system is the introduction of digital content. Digital learning took educational system by storm. Learning through videos, images, texts, graphics, stories, short movies, text, infographics and even games offer a better understanding of concepts than learning in traditional whiteboard method. In few countries tutors have started using mobile/web applications to present information, which is very helpful for the students.
Technology will never Replace great Teachers, But Technology in the hands of great Teachers is Transformational
George Couros, Leadership Consultant
Campus Automation
This is one of the most trending automation systems in the world. The entire school/college automation. Automation of all the operations. When we say operations, it includes starting from application form submission to campus placement selection. In between there are many processes like admission, notes, assignment submission, research paper submission, attendance management, learning from home, examination, evaluation, result publication, notice, meetings, cultural activities, campus placement. Just imagine getting all of these on your smart phone through a mobile app. One message can reduce all the hassle.
Mobile Learning
Digital evolution is slowly replacing classroom teaching. Mobile learning is very much popular & the reach is also high. Users can move around and learn from their mobile devices. Students are allowed to access learning modules and notes from anywhere at any time. Video learning and other customized software of this are also getting popular. Mobility has certainly reduced the constraint of distance between education provider & learner. It is through technology that distances can be bridged and education can be brought to the student's doorstep.
Quality Content
Access to quality content is far easier than it was before. Information available online is now huge & also personalized. Research papers, books, case studies, newsletters, business journals, statistics etc. are being used to pull out required and customized content after applying artificial intelligence and machine learning. For mobile devices, the content is more arranged and interactive. Education providers are adapting this and allowing students to access information for their knowledge enhancement.
Its more Practical Training than Soft Skill Training
Universities are focusing more on providing practical training to their students. By using technologies they are providing all the online case studies to solve, puzzles, study materials, content to their students. Rather than giving improving their soft skills, they are targeting to improve their management skills and IQ level, which will help them to build their own portfolio to get the better professional career.
Cost Effective Education
Many countries believe that it involves a lot of costs to implement technology in any sector. But, it is a myth. There will be minimal set up cost. No eBook, no application, no video lecture will cost you. Even the associated cost is very less as compared to the quality it will provide to the system. No need to invest more in physical infrastructure. Invest far less in strengthen IT infrastructure. One time investment, but it will give you all the control on your finger tip. There won't be any physical boundary for knowledge sharing.
Improved Efficiency
Educational institutes need to manage all their day to day operations which are not limited to students, teaching staffs and resources, labs, examinations smoothly & by keeping associated cost in shape.
Projectors, IT lab equipment needs to be maintained as well as updated. Real time visibility will keep track of all assets & will notify whenever required. So that teacher can invest their quality time more in other productive things.
Technology can become the "wings" that will allow the educational world to fly farther & faster than ever before- if we will allow it
Jenny Arledge, Leadership Consultant
Moreover, management can monitor the performance of their resources/assets in real time so that if required, items can be replaced without affecting teaching schedule. Tracking devices can ensure that students are accounted for in real time, minimizing time-consuming activities like recording attendance. With automated attendance system students can be marked present as soon as they board bus or step inside their assigned classroom. Similarly another option could be, the proliferation of smart ID cards means students can be automatically marked "present" when they walk through the classroom door. With mobile computing solutions, operational roadblocks can be dealt with in real time.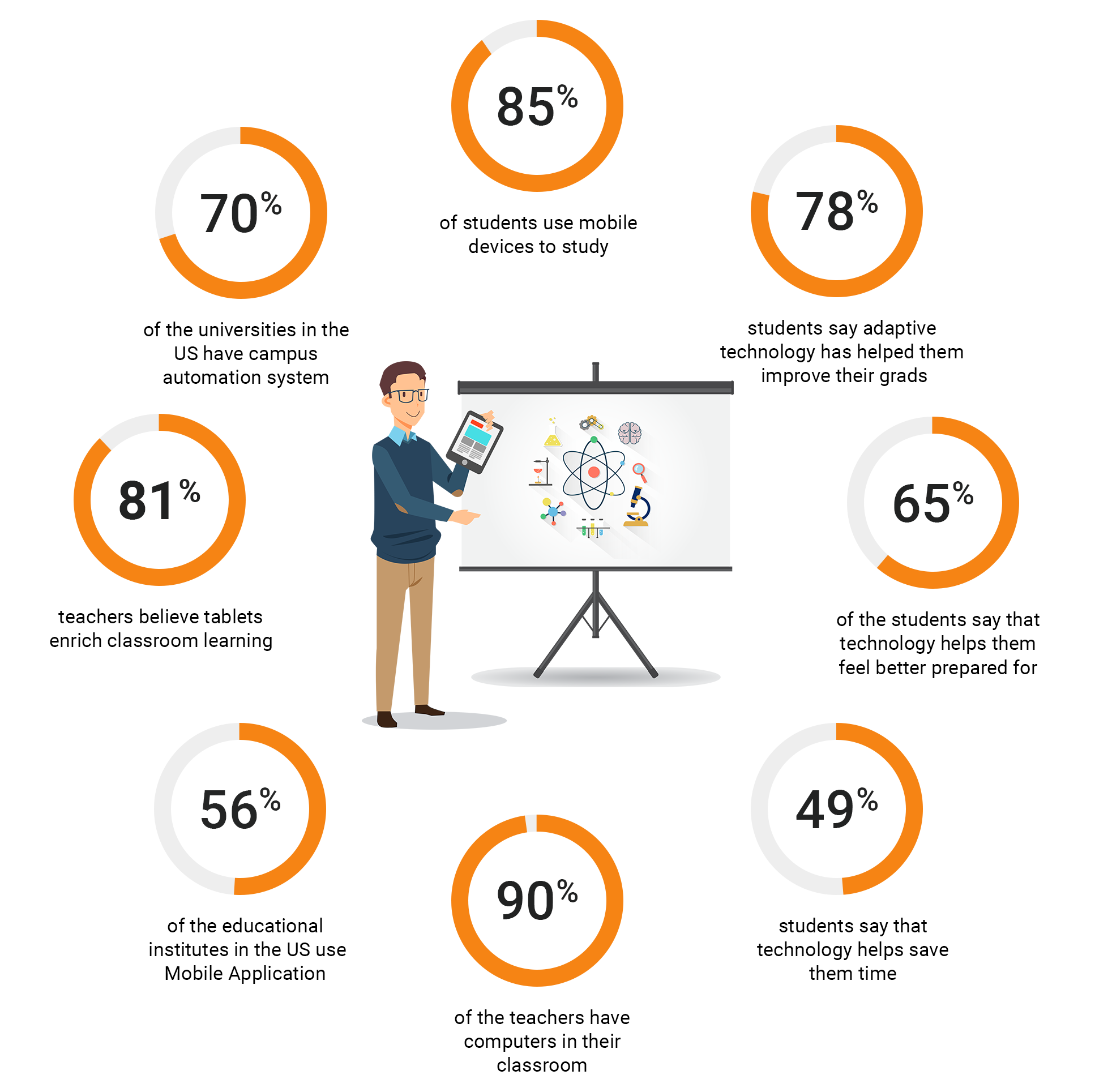 Smart & Safe Campus
Ever thought of the safety of your campus properties, more importantly safety of your students? Here where IoT (Internet-of-Things) comes into the picture. IoT's ability to track objects, students, staffs, assets and connect devices across campus takes the safety to a new level.
A GPS-enabled transportation system means routes can be tracked, optimized, parents can track where their kids are, can get notification where the bus is and how much time it will take to reach your pick up point. Ultimately it makes the system smart, safe and time saving. Smart ID cards can locate a student, cashless access to cafeteria, library, lab etc. which minimizes the loss of money.
What could be the benefits/results of using Technology in Education?
If the unlimited access to information which can turn into knowledge used appropriately with guidance, they can become tools for the development of higher order thinking skills. With the evolution of real-world education, online courses, gamification, learning analytics, open source textbooks and integration of social networks, knowledge sharing has become collaborative, engaging and transparent.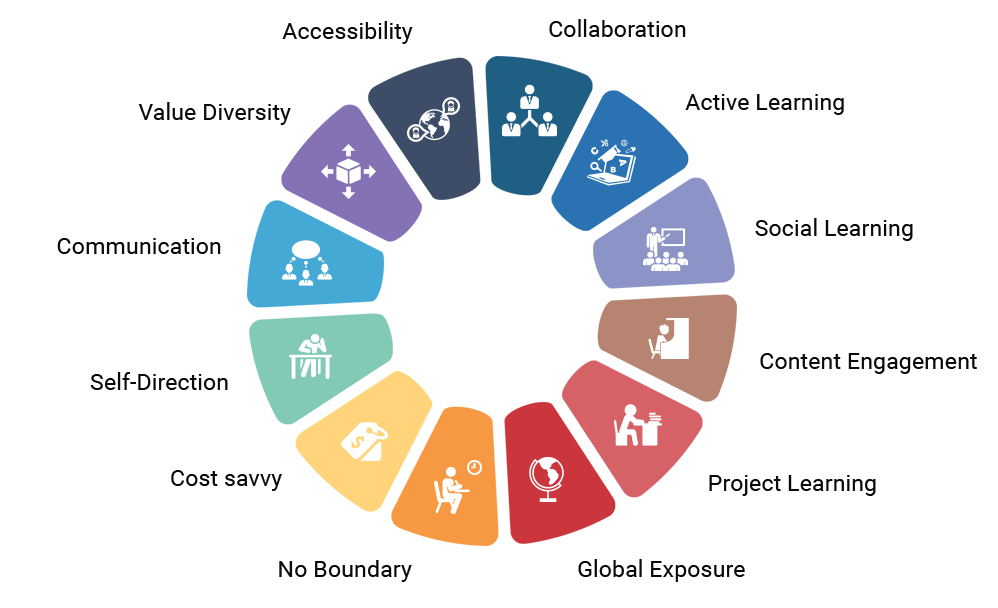 Hope you liked this blog. Many countries have already understood the fact that it's very important for them to invest more on their education system, so that their future will be in safe hands.
Apogaeis is a one stop provider of all solutions to education industry. Starting from building customized application to implementing software solutions and providing IT consulting services. To know more, please Contact Us.