The importance & usage of mobile devices has increased immensely in the workplace over the last decade. The global business world has witnessed many innovative transformations during this time by successfully enhancing & simplifying business processes across various industries & domains. Use of Enterprise Mobility & Bring-Your-Own-Device (BYOD) is all set to rule the next decade. But, these two technological innovations haven't always enabled excellent user experience for many organizations. Lack of strong corporate mobility policies & adequate tools prevents effective IT security, operations, control over mobility practices & BYOD.
The need of a corporate mobility policy is required to protect corporate information assets and data misuse. In this blog, we are going to discuss top 8 reasons which needed to be considered while establishing mobility policies at the workplace.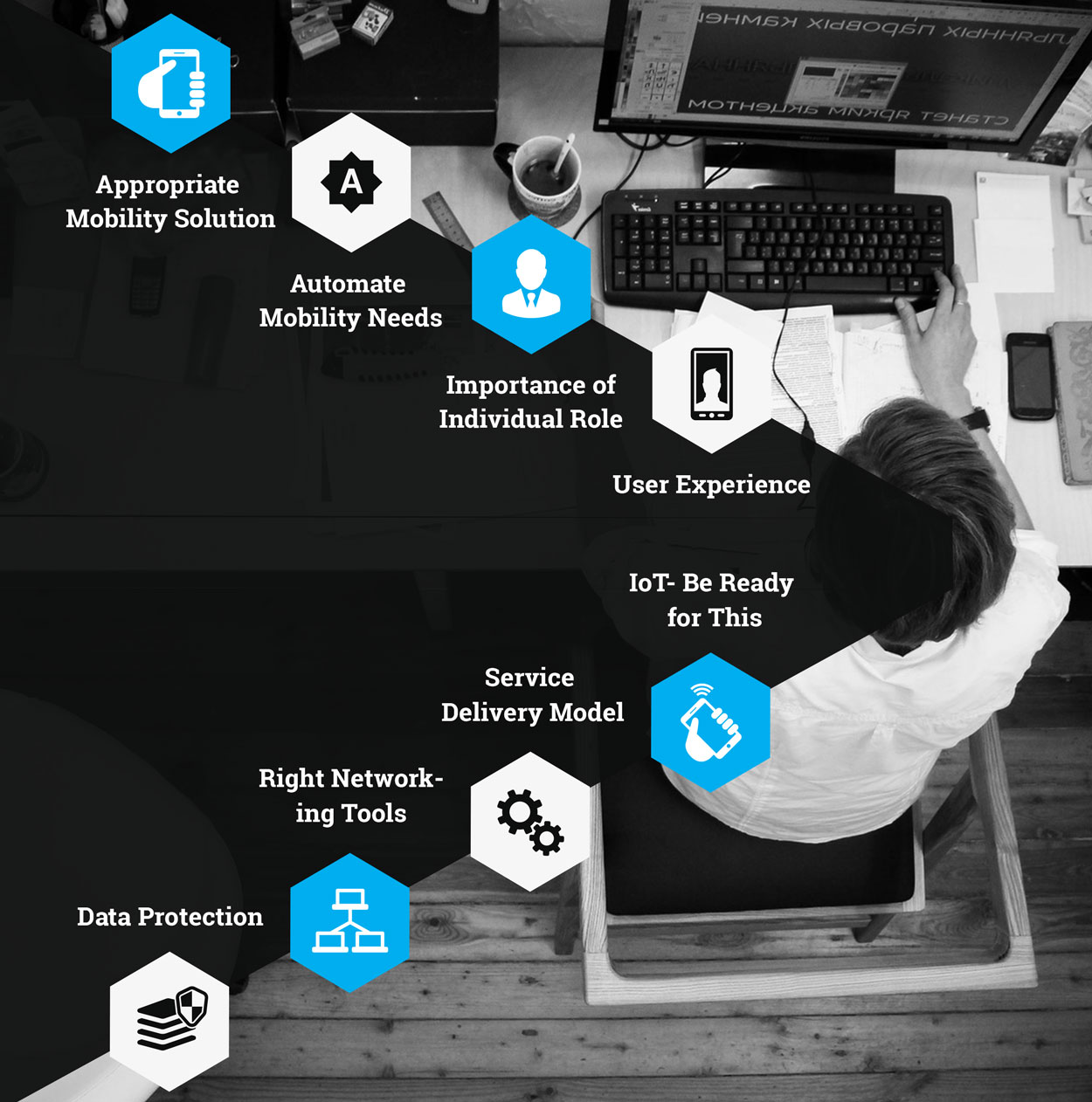 Appropriate Mobility Solution
In today's business world every business starting from SMEs to Big corporates are using Mobility Solutions for their business operations. For a robust corporate mobility policy, you need to start with choosing a right approach in applying the most suited mobility solution for your business. An appropriate solution can fit your business needs & mobile use cases. It can also add an advantage to your business model. If you fail to choose the right solution for your BYOD needs or mobility needs, it can foster data mismanagement and also can be a threat to your network & business resources.
At the bottom, the elimination of spyware and the preservation of privacy for the consumer are critical goals if the Internet is to remain safe and reliable and credible.
Cliff Stearns
Automate Mobility Needs
There will be circumstances, when employees will transfer to other branches, upgrade their mobile devices, replacing devices, changing projects, changing departments or even leaving company. It will be difficult to do changes manually in this kind of situations. If all your business mobility needs get automated, then you can have a more improved business experience. Automation can definitely enhance the overall productivity, performance improvement, significant cost reduction throughout the organization.
Importance of Individual Role
Each & every individual's role inside your organization is very important for a successful corporate mobility policy. Employees need to understand their responsibilities in protecting business data. Seminars, webinars, case studies can be helpful in this regard. BYOD can be tricky in this situation, but a clear difference between personal own device & company owned device should be explained by your cyber security team. You need someone to review all these processes and address required IT specifications.
User Experience
Mobile devices have undoubtedly changed the way individual & businesses work. But one of the most important aspects of corporate mobility policies is identifying & understanding actual user's needs & preferences. An enterprise mobility strategy should focus & based on its users. A user friendly enterprise mobility strategy will allow you to drive effective solutions to manage all connected devices, network, ensure security and most importantly can help users to perform better.
Data Protection
The amount of business data is increasing at an immense speed. With that the data privacy & safety concerns are also increasing which includes data collection, data storage, data use, and data transfer etc. It can prove to be a disaster, if your business information is unmanaged. Companies are encouraged to effectively protect data by implementing a strong Cyber Security tool which will in turn, give the organization an ability to measure the key business metrics. With data protection, you need to constantly look for new innovative ways for your network protection, application protection, service protection, datacentre management, online scam management, infrastructure security, and virus/malware protection etc. before implementing your corporate mobility policy. These are the factors which can impact your overall mobility security.
Right Networking Tools
The right use of networking tools & proper customization of network settings of containers and business apps can provide a seamless user experience, data safety, efficient business operations and guarantee compliance with security policies implemented. A network security prototype can help a business to protect data as well as can control all the inflow & outflow of information from any corporate devices.
Service Delivery Model
It is very important for businesses to implement their mobility strategies considering the type of apps and services, users can use comfortably. A transparent solution and seamless access makes a user handle multiple applications simultaneously & maintain security & visibility of the business data. Your service delivery model should focus on your corporate mobility policies.
IoT- Be Ready for This
Internet of Things (IoT) is the future of technological innovations. IoT is changing the lives of millions and it is highly expected that, it will transform many businesses and industries in coming years. So, this is essential to brace yourself for IoT related mobility strategies in order to make your data more secure & mobility policy more effective. It will save time & cost significantly as you can avoid frequent change of mobility policies.
Conclusion
As a business owner in today's technology-driven world, you should analyse your strategies when it comes to managing mobility needs. Your company's productivity & future growth depends on how are you handling mobility issues effectively, and this is where corporate mobility policies play a major role. A well planned & effective execution of these policies can tackle your organizational mobility environment by making it secure & user-friendly.
With the massive boom of BYOD & Enterprise Mobility Solutions, organizations are constantly looking for new opportunities to implement their mobility strategies for further business growth. Recent research shows that business owners are becoming more & more willing to outsource their mobility needs to a third-party expert. Apogaeis has been helping corporates to strengthen their mobility solutions by implementing customized mobile applications and mobility consulting services. To understand more, Get In Touch.