Companies worldwide are all set to spend $3.4 trillion on IT in 2017, a Gartner report predicts. Software spending was projected to be up by 6% in 2016 and to grow another 7.2% in 2017 to a total number of $357 billion. These numbers prove, companies are considering IT and business digitalization as key to grow and succeed in their space. The Rising Tech Trends are ready to take off and become mainstream next year.
If you want to run a successful business, you need to connect all the possibilities and prepare a robust business strategy. Let's discuss the Top 15 Business Trends other than information technology which are going to drive success for many industries in 2017;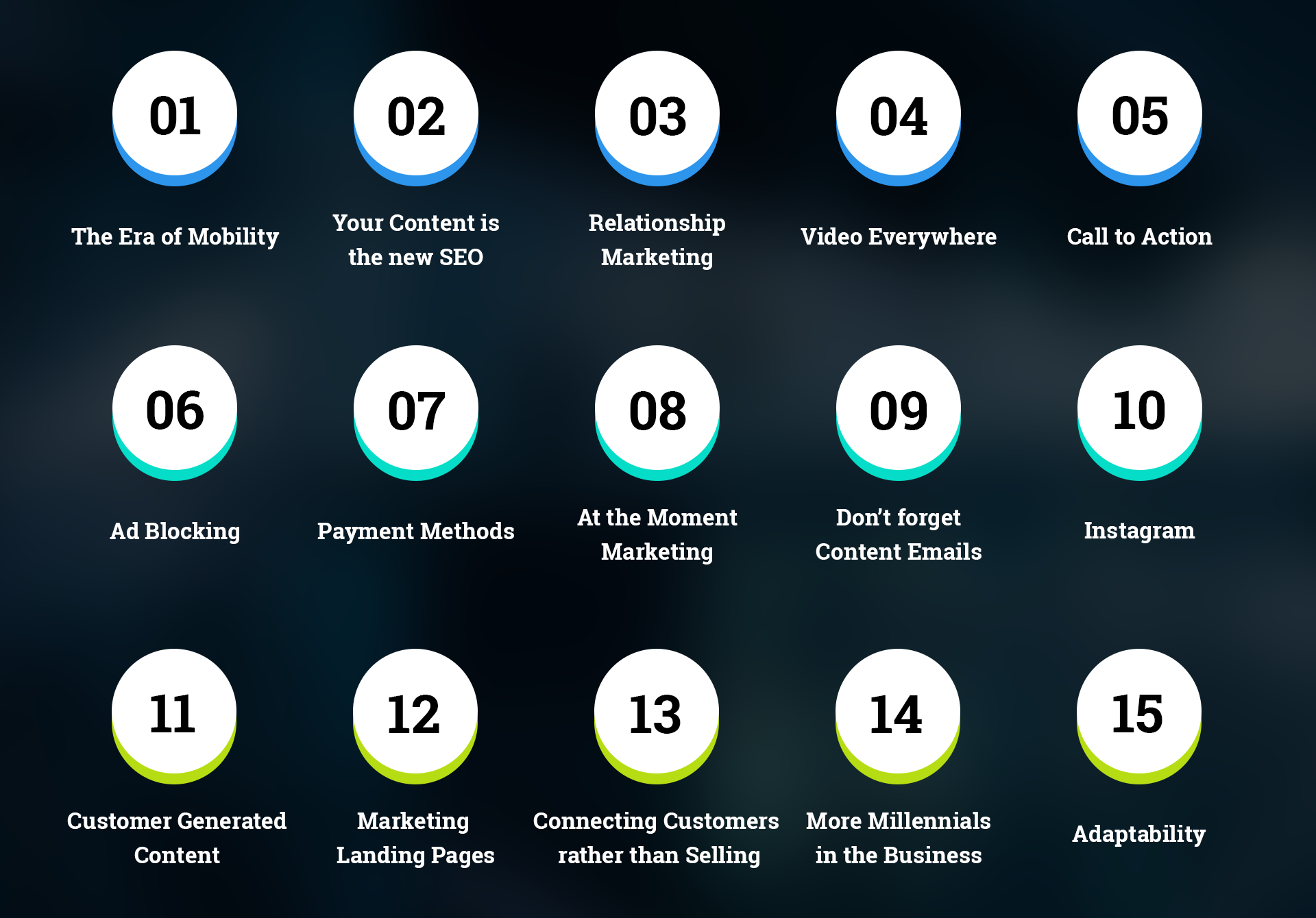 The Era of Mobility
2017 is going to be the year of Mobility. The mobility era has already started since few years, but 2017 will see the mobile dominance. It is believed that World Wide Web is slowly losing its importance and useful than past as mobile applications are the proving out to be a dominant factor for businesses as well as customers. In 2016, more than 50% of the business activities happened over mobile platforms and we believe this number will increase in 2017. So, if you're making a list of business goals for 2017, put mobility at the top of the list.
To succeed in the business of the future, we have to become the very people we're trying to reach.
Your Content is the new SEO
An average of 45% to 55% of business revenue deriving from organic traffic and as business strategies are shifting to online platforms. A robust content strategy is extremely valuable for any business beyond a website or social media updates. A Blog, online event, innovative social presence, customer interaction, online competition, sharing quality information are going to strengthen your online presence. It's high time to be creative.
Relationship Marketing
Marketing strategies are changing at lightning speed. Businesses are making out of the box strategies to go an extra mile. What matters in today's business world, is to market your services to the right person. Business insights, machine learning, customized solutions, customer engagement will all help you talk your customers in 2017.
Video Everywhere
Video is taking over the entire business landscape. With the innovation of auto-play clips in various social media platforms, videos are not limited to websites or YouTube. In 2017, there will be more channels which you can use to promote your business videos. Research shows, videos engage almost twice of your audience.
Call to Action
In the later part of 2015 and during 2016, a Call to Action option leaded to much quick business conversion. It is highly expected that 2017 will witness a rise in conversion rate with effective use of call to action button. Many E-commerce companies are using this on their website, but the call to action is no more limited to the website anymore. Your social media channels can use a call to action button very effectively. Buy buttons on Facebook, Instagram, Pinterest, YouTube and other social channels will become standard as the line between social media and ecommerce sites thins.
Ad Blocking
With constant rise of Ad blocking, other strategies to drive traffic to your website need to set up. Ad blocking grew globally by 41% in past 12 months and is expected to cost businesses $41 billion globally in 2016.  You need to prepare yourself before 2017 and think of innovative business plans to enhance online presence.
Payment Methods
Customers are always on the look for new, easy and more secure payment options. With the evolution of mobile payments, new ways are coming for online payment. 2017 will see fingerprint payment grow, more technology in mobile payments and simplified checkout flows.
At the Moment Marketing
The way businesses are moving, it is very important to make yourself ready to grab any opportunity at any time. A missed chance can be a big gain for your competitor. Showing your presence at the right place at the right time and having a strong root on all channels where your business persona hangs out, is very crucial.
Don't forget Content Emails
Personalized Emails! 2016 saw personalized emails boost conversion by 12% . Study shows people feel good and act twice as fast as if they are requested to do something, when they get a personalized email from any company with their name. Many businesses are slowly removing Emails from their business strategies, but the last couple of years saw a sudden hype in personalised emails. A small note from you to your customer can create magic.
Instagram- A huge Opportunity in Making
With the right set of hashtags and beautiful designs you can increase your reach to the maximum. As many industries used Instagram perfectly in 2016 and gained tremendous success, many are considering it as a major tool to show case what they got to offer.

Customer Generated Content
Online reputation is key to success. The scope of customer generated content of very high as customers are ready to interact with the brand online on a daily basis. Brands are constantly trying new ways to engage more and more customers online. There are more tools than ever to leverage customer generated content and you can take advantage of those in 2017. Twitter contest, customer responds, Facebook polls are on the cards. You can use your current customers to attract future customers.
Marketing Landing Pages
Your landing page can directly impact your conversion rates. They provide a single focus point for each campaign in such a way, which a home page or a website can't. Your landing pages can drive much more traffic to other business information resources.
Connecting Customers rather than Selling
People are tired of being sold. The result is an instant turn-off, for the buyers when they sense any type of selling. What is working now and will dominate 2017 business strategies are apps or services that connect people to what they want, rather than what you can offer. Uber is the largest taxi company, still it hasn't any physical assets. Still, they are the best in the business.
More Millennials in the Business
Millennials don't work the way baby boomers do. They always prefer creative ways to do their job better and often looking for new ways to improve the processes. This leads innovation and helps transformation within the organization. A trend is here, where businesses are starting to embrace millennials and have trust on their abilities. This will be seen even more in 2017.
Adaptability, More vital than ever before
The business landscape is going to change constantly, whether you pursue it or not. You can take the example of Cloud Computing. It changed the face of many SMEs. Modern enterprises succeed when they adapt to changes and incorporate new technologies into their business culture. 2017 will witness many transformations related to business models and not limited to digital. 2017 is about bringing together the power of technology with a culture that can lead an organization.
Conclusion
Technology is constantly evolving and so business. It is just a matter of few months or year to get out business if you are not aligning your business strategies. You need to brace yourself for the changes in the business environment in the next few years, and keep repeating this. Businesses are becoming more customer oriented, so the race to survive in the market depends on your approach towards business plans.
Hope you liked our analysis on future Business Trends. If you want to know more about how technology can help you to enhance your business model, get in touch with us. Apogaeis, is a concept development company, helping its clients pushing their limits every day to achieve something bigger.