Revolution and Innovation in the Cloud Technology has given an opportunity to Small and Medium Businesses to climb the top. Not only SMEs are getting opportunities to grow, but also they are taking their business operations to new heights. Cloud Technology has opened a door for small companies, where few year back larger organizations were ruling. As everything became on-demand and need-based, it gave SMEs significant competitive advantages and allowing them to compete in a much larger business space.
Data security, storage, 0% downtime, managing CRM, resource optimization, use of latest software, anytime & anywhere resource availability model are some of the greatest advantages of Cloud Technology. Cloud Technology reduces a high amount of investment and saves a lot of time.
If someone asks me what cloud computing is, I try not to get bogged down with definitions. I tell them that, simply put, cloud computing is a better way to run your business.
 Mark Benioff, CEO of Salesforce
Cloud is a centralized location on the internet where we can store data and can access that anytime, anywhere and also from any device. Business often uses the cloud technology to store and manage their business data or to access any software which is popularly known as "Software-as-a-Service" or SaaS.
Only 30% of small businesses are using cloud technology and 10% are not familiar with cloud technology.This survey proves, technology might be difficult for SMEs to manage or they are lacking expertise. Let's have a closer look at 6 Reasons why Cloud Technology is a revolution for SMEs and reason for them to use it effectively for future growth.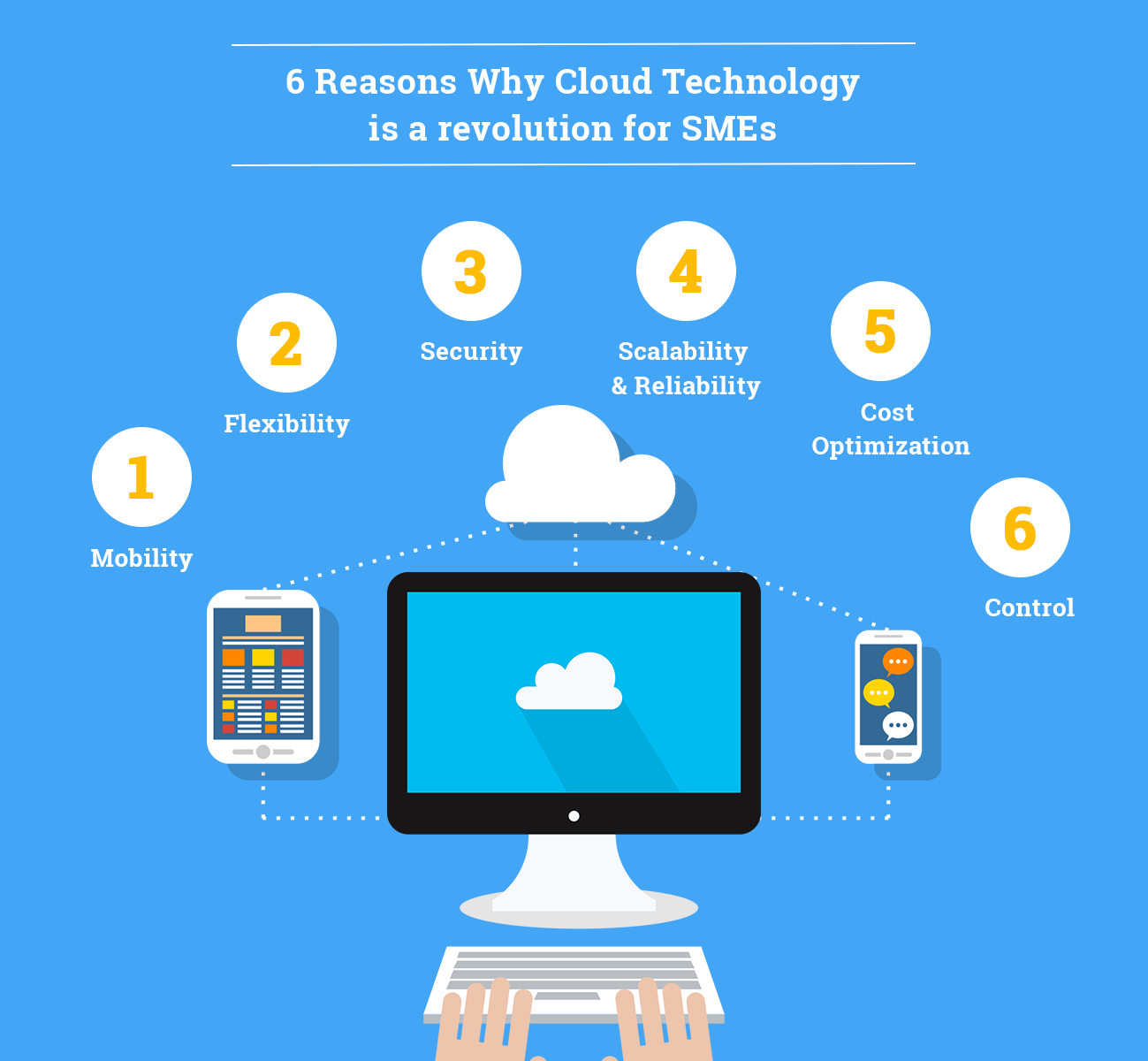 Mobility
With Cloud Technology, you can be at work at any time, from anywhere, through any device if you have an internet connection. Remote working is a very popular incentive for many employees, especially when you are working for an SME or start up, it is not a 9 to 6 job. New resources can be easily added and you can customize the access to various locations. The entire team can access the latest versions of the business data from anywhere. This can help the sales team a lot. As they used to travel a lot around the year for business deals, they can use latest resources, collaterals, presentations as well as product demos. However, with cloud technology all the resources may be optimized on-demand at very minimal pricing. Mobility can give you an opportunity to grow in a rapid way.
Flexibility
Pay as per your use, as simple as that. Cloud Technology is ideal for the organizations who are growing or have future expansion plans. Use as per your current requirement, if your business need will increase in future, then you can scale up. Similarly, as many of the cloud service providers have pay per subscription based model, and they initially allow you to use it for free for few days, you can access all the modules, and can later decide which one is useful for your business. You can subscribe to useful modules and can unsubscribe others. Pay only for what you use. This level of agility provides SMEs a real competitive advantage. No need for any software or hardware installation. Flexibility is one of the core reason why many companies are preferring cloud solutions for their business.
Security
Data breaches are affecting companies a lot. Sony was the biggest example. You must be thinking if such big companies are getting affected by data hackers, how you can save your small business which can be an easy target for online hackers. Cloud solution providers can secure your data in an efficient and more robust way. Data storage in the cloud will ensure that, experts are there to take care of your data and they can take necessary precautions to protect it from hackers. Cloud not only protects your data, but also back up your data from any possible data disaster. So no worry for a crashed server or a broken system. Data security and disaster management can assure you and you can concentrate on your core work, while your service provider can take care of the safety of your business information.
Scalability and Reliability
Cloud services are highly scalable and reliable. SMEs can strategize a steady and planned growth by the use of cloud solutions. As a company expands to other locations or even as a team, you can scale up to the next level of services, can add users and servers immediately. No requirement of purchasing any other software. It's like just renting one extra room. In the case of specific requirement, you can also scale up or scale down. For example: if you have planned for a viral online campaign and expect a lot of traffic to your business website or application, then you can scale up for few days, and as soon as the traffic gets normal, you can again scale down to your actual plan.
Cloud solutions are more reliable than traditional software. There is no upfront cost, zero investment, very less maintenance cost and highly secure. One of the most important features which makes cloud systems more reliable that automatic software updates. There is no fear of staying one step back from latest technologies, as the solution will take all the updates automatically.
Cost Optimization
Cost Optimization is one of a supreme feature of cloud systems. There is zero capital-expenditure fee. The high cost of hardware is not there. A subscription based model is very much affordable. You have to pay as per your use. Just like a post-paid network connection. A reasonable set up cost will be there, but most importantly there is a very less maintenance cost. In the case of traditional software, you need to spend a lot of cost in maintenance. Think about other associated costs. There won't be many expenses for power, cooling, upgradation expenses, no software license expenses and much more. No fear of obsolete of hardware and software are very much flexible.
Control
One of the biggest challenges in managing any size of business is how to control entire operations. The more number of users, the more is the need to control. But cloud technology has allowed all the users to send, share all the documents through cloud space. So there is not much physical space required, neither more file content. All files are stored centrally and users who have access can use the same file. You can even have all the control through a Customized Mobile Application for your business. Check others blogs to know how, links are given below;
ALSO READ : "How Mobile Enterprise Applications are helping Telecommunication Industry"
Another control you can get is the entire suite of HR, finance, CRM and back office operations. This allows small business owners to manage their business smoothly without much difficulties in getting all the details from all the departments. Auto Report generation is also one of the best control features you can get. Whichever report you need, you can get it immediately. So the decision making time will reduce and you can focus on other core activities.
So these are the 6 most important reason for which you should go to the cloud technology if you fall in the SME or Start-up bracket.
Conclusion
Cloud Solutions clearly offers a gamut of advantages to small medium business owners. They let you take care of your vision and core business, while rest everything you can leave up to the cloud platform. With the scalability and flexibility of cloud solutions you can quickly move forward by taking competitive advantages.
If you don't have cloud solutions for your SME, you are missing a big opportunity. An opportunity to grow, to lead and to inspire. The market is extremely competitive, so finding all possible technologies which can optimize your business process and reduce time, will be helpful.
Apogaeis is providing SaaS and PaaS solutions to many global SMEs. Our cloud based solutions are adding a lot of value to their entire business process. If you feel it's your time to experience the ride of cloud, Drop a message here or if you have any comments, please write in the comment box below.
Heard a lot about IT outsourcing? Now let's see how to make a better business with it