Have you ever think, how all other industries are connected offline with each other? Yes, logistics industry is the thread which connects all other industries together. Transportation plays a supreme role in global logistics & supply chain management, which facilitates the economic progress of a nation. In past few years, logistics industry has seen some amazing transformation and trends. Innovative technologies are changing the global business relations. Ever increasing customer demands, new buying habits, the evolution of ecommerce has impacted the global logistic system.
From efficient transport management system to data analytics, cloud computing, Internet-of-Things and enterprise mobility solutions, 2016 has seen much more in the logistics industry. 2017 is going to be the year where technological advancements will take logistics & supply chain industry to the next level. Technology is being used to provide faster and reliable delivery services. Consumers are demanding, faster logistics with more options. It has become essential for the service providers to use technological innovations to utilize maximum space, manpower, warehouses, vehicles etc. with control on wastage & fuel charges.
While we are about to discuss technological trends in logistics & supply chain industry, let's discuss some of the technological innovations or advancements which going to shape the entire concept of logistics.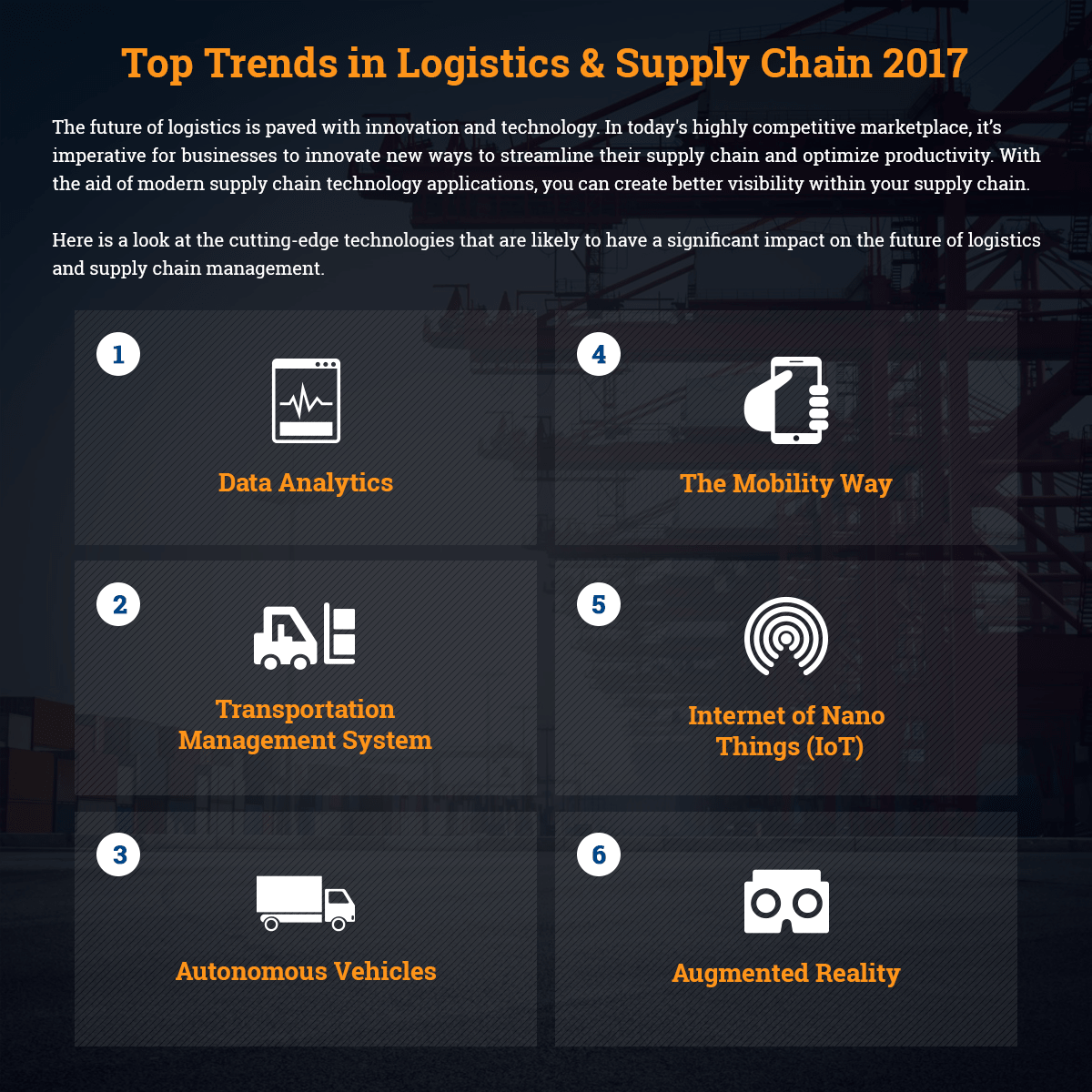 Data Analytics
The amount of data generating per day is extremely high & is growing at an impeccable rate. Big Data is the process of evaluating a large amount of data to uncover hidden patterns, market trends, customer preferences, competitor insights & other useful market insights. It's a real challenge for any business to capture & use the data in an optimized manner.
This is an opportunity for visionary business owners. The biggest competitive advantage a company can gain if they are able to capitalize on the data, analyse it & get insights to refine business strategies. Now most of the logistic companies use technology to pull out data from the database with the help of programming. But what about the industry insights, consumer buying trends, competitor strategies etc.? Applications could be used to get such hidden data, without much human involvement.
There are many projects initiated by logistic companies in order to use big data properly. In 2017, we are expecting real time data gathering and in-time analysis using the spark on Hadoop and related technologies. Data Science & Engineering, Machine Learning, Data Analytics, Deep Learning, Predictive Analytics etc. are going to be applied on collected data to get insights and reports useful for business owners to align business strategies. Data-Driven reports help on the work volume analysis, fuel management, web campaigns, government taxation, warehouse management etc.
In Big Data way, logistic companies are getting a lot of benefits. Operation optimization, performance management, daily planned & actual delivery calculation, field service, hub management and utilization, resource engagement are few to name. The innovative technology has allowed logistic companies to implement service strategies which could help us to get a faster service opportunity. Now the delivery boy will schedule deliveries keeping the total no of orders, vehicle capacity, availability and the delivery time slots given to the customers.
Check our other blogs on big data: "Big Data Analytics: The Undiscovered Mystery for Many Industries"
Transportation Management System
Transportation Management System is not a new software, but this software is transforming every year with advanced technologies. The evolution of cloud computing, Software-as-a-Service have changed the way logistic companies work. Small & Medium Scale companies are using technology on pay per use model. With a very less investment, logistic companies are managing and controlling their entire business operations. TMS is powered with many innovative features & expected to touch new heights of innovation in coming years. Warehouse management, labour management, goods management, fuel management, route optimization, and capacity utilization are some of the most important modules.
Autonomous Vehicles
Companies like Google, Intel and few others are working in collaboration with few automobile giants in giving the final touch to autonomous vehicles. Amazon has already announced that they are going to use drones to deliver products within an hour. Looks like a dream, but this is going to happen very soon. If autonomous vehicles are set to take care of logistic, then imagine the speed of the delivery. Though machines can't match human intelligence, but technical innovations combined with human intelligence could bring much better results.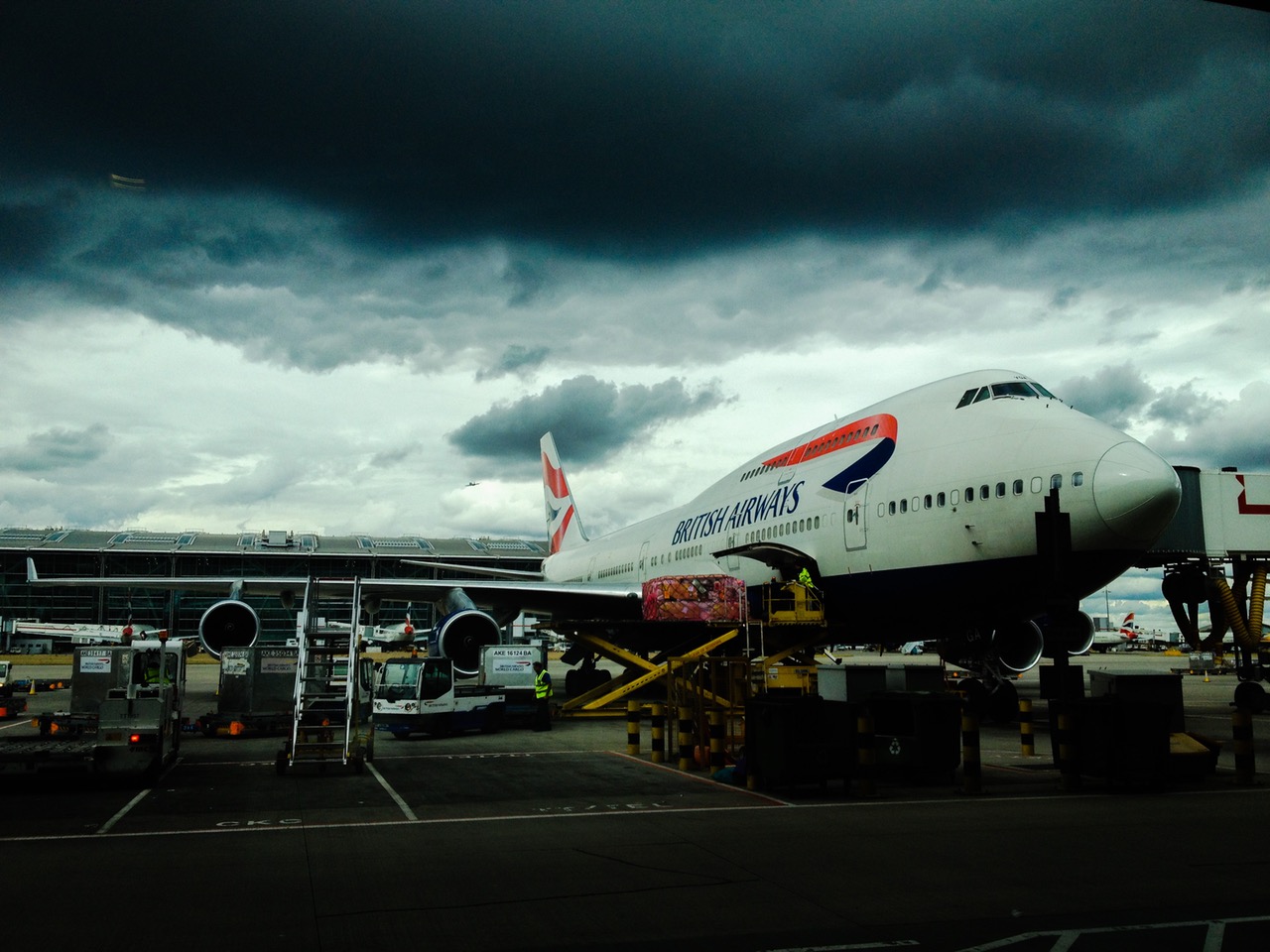 Autonomous vehicles are minimizing the delivery time, damage chances, as well as they are utilizing the entire space for the shipment. Overall it is reducing a lot of costs.
The Mobility Way
Mobility solutions are the most used & reliable technological innovations in the last decade. It helps businesses to monitor the real-time operations & get real-time data. Mobile applications enabled small businesses to complete in a much larger market space. Mobile apps has reduced the gap between service providers & consumers and made the communication very easy.
Various mobile applications have been developed to help logistic companies to extend their business to mobile devices. These applications are running on various devices like mobile, tablets, PCs etc. to offer functionalities like real-time information capture, real-time messaging, order dispatching, route tracking, warehouse management etc. Overall system and technology helps to monitor & report the condition of the vehicle, vehicle positioning using GPS, vehicle safety, and also allows the manager to communicate with the driver.
Internet of Nano Things (IoT)
One secondary research shows, 24% of the logistic companies have IoT plans in their next 1 year, 40% are already using, 67% are planning an IoT strategy. Logistic industry is one of the first to adopt IoT compared to other industries. Smart logistics operations show faster ROI and reduce management complexities. Enterprises are accelerating productivity, profitability and operations with solutions designed with the help of IoT. Enterprise can connect all devices to a centralized network to capture & share data. IoT & Big Data always work together. IoT is been used for fleet management, warehouse management, an end to end process visibility. In coming year IoT is going to be Nano and will capture every single possible data.
Check our previous blog to understand more on this: "Is Internet of Things (IOT) the future? Certainly it is. . ."
Augmented Reality
We all create our world around us through our perception, and our perception is influenced by the reality. Augmented reality allows a more enhanced view of the real world. Augmented reality (AR) is a live, direct or indirect, view of a physical, real-world environment whose elements are augmented by computer-generated sensory input such as sound, video, graphics or GPS data. A reality which is digitally manageable and interactive.
AR is been used for order picking process, delivery and warehouse management. Scene recognition and augmented reality allow a camera operating system to find a product in the warehouse and move it to the right vehicle for faster delivery. All these information can be shown in an AR device. The same concept can be used for delivery boys to find the right product from the vehicle for delivery. This is on the cards for future faster logistic services. In future AR can be used to identify the damaged product in from the warehouse, even can be used to identify what part of the product is damage. AR helps to anticipate and respond to any deviation from planned processes. Hundreds of sensors continually capture information in the real world and send alerts for humans to make the better decision.
AR is non-tangible and imaginary technology, which can be placed in the physical part of business. With the use of AR, businesses can provide their customers a service experience with which is more standardize and quicker.
Conclusion
There are few technologies which are going to change and improve the logistics and supply chain industry. These technologies will help the industry to overcome some tough challenges like cost optimization, faster service, damage management, route optimization, warehouse management and much more. This will bring the much needed efficiency and the highest level of customer satisfaction. As a whole, we are going to witness a stronger and connected logistic service.
Apogaeis is a reliable technology service provider worldwide. Our innovative IT solutions solve complex business problems. Get in touch with us to know more about how you can improve your business efficiency by the use of the web and mobile technology. Connect Here