On June 13th during WWDC Keynote, Apple announced its biggest iOS release till now. The latest edition of Apple, iOS 10 is all set to release for Public Beta in July while the developer version has already been launched. Few of the iOS 10 features made Apple stand out again, but there are few applications seems to be copied from android. Let's discuss what's new in iOS 10 & what they took from Android.
Compatibility
iOS 10 is coming to you if you're not using very old Apple devices. It is compatible with following iPhone, iPad & iPod.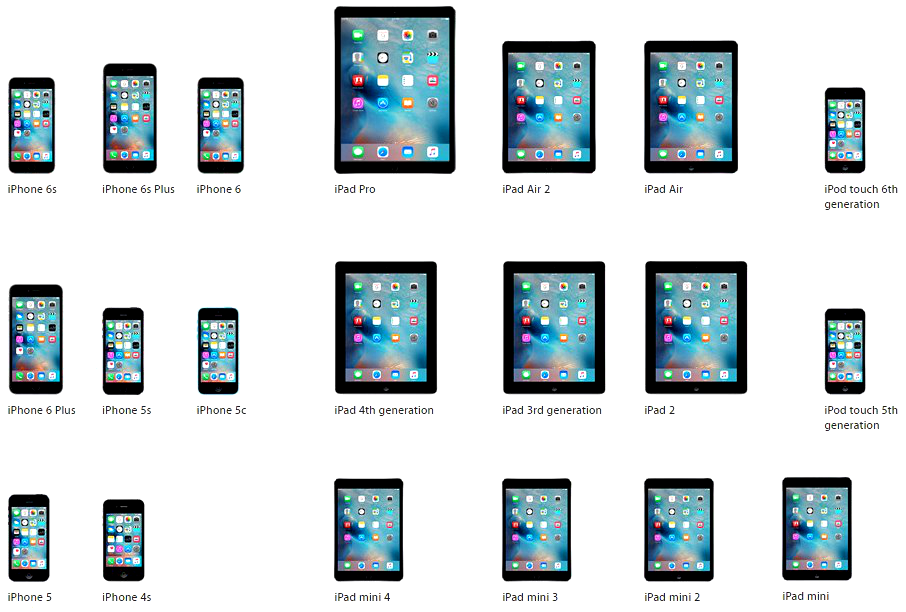 Features
Many newly introduced and old revised features stealing the show like iMessages, Siri, Apple Maps etc. Here is the detail;
UI Design
Apple has Redesigned Lock Screen & made it more user-friendly to access Camera & now supports Pick Up to Wake. Apple re-introduced widget page in iOS 10.
The Control Section is comprised of two sections with Toggles & Music Controls. You can add a third control center where you can customize your home accessories.
More powerful 3D Touch.
Clear All Notification option with 3D Touch.
Within the Home Screen, 3D Touching app tiles like Activity gives you a more graphical account of your fitness goals. You'll know faster than ever that you have to close those daily activity rings.
Siri
 Apple opened Siri for developers for the first time. Now it can send messages via non-Apple message clients. It can book Uber with others too, search photos through various third party photo apps, can make VoIP calls or send payments.
Siri got its Own Update now.
Quick-type Keypad
The keypad is now enhanced with Siri's intelligence. It can sense what you want to say or answer. It can go through your messages & suggest from that. It will create events, share your location, remember current address & the best thing is now it supports multilingual typing.
Images
A little inspired by Android, now iOS 10 can show your images on the map & you will sort them according to your wish.
An awesome new feature is the AI sorting in Memories, which scans your photos and sorts them in automatic albums by landmarks, animals, people, topics, and various other criteria.
Apple Maps
They enhanced it with Map layers. It will now support extensions.
It can help you throughout your day by offering the fastest routes by following all the traffic around you and suggesting places nearby. It can also make reservations.
Maps in Car Play also has some new features like expanding the turn-by-turn navigation to your dashboard display.
Apple Music
Apple Music got a newly developed interface, this makes easier to find the music you prefer and organize it accordingly.
It looks to be a much cleaner design, highlighting cover art properly and suggesting music that you'll like in a more logical fashion. But it's not going to excite you for iOS 10 if you're not a paid subscriber.
News
The News has got a brand new interface. It can also create subtopics for you – i.e. If you want to read about technology, then this will create a subcategory for you say Android.
The News app supports subscriptions, so you can get all free and paid content in one place – the News app. Breaking News notification on the home screen are also a novelty brought by the update.
iMessages
Finally, the Messages app has been enhanced. First – it supports live GIF and video playback right within the app. Any multimedia that could be played – you can play it within the messaging thread.
You get quick access to your photos and live camera feed without leaving the app.
The Emojis are now 3x bigger and you can replace words with Emojis by just tapping on them.
The Bubble Effects we found quite captivating. You can apply different effects to your iMessages, you can even opt for scratch to reveal. There are similar effects available for the full messaging screen (such as fireworks).
The Messages app now supports handwritten messages, too. Digital Touch message option is available as well.
The Messages app is now open to developers, too, so you can expect various mini iMessages apps to pop-up in the App Store and enhance your experience.
The Mail supports conversation view.
The Live Photos are now digitally stabilized and you can edit them if you like.
Finally, the Safari on the iPad gets the spilt-screen view.
Home App
Apple's developer-focused HomeKit is coming to end-users with iOS 10 (and also Apple Watch), and the new app appears right on the home screen is called Home.
It'll tie all of your home-based IoT gadgets together into a simple interface and include Scenes to change the mood of rooms in a pinch, no matter who makes your home's previously fragmented smart tech.

Siri acts as a shortcut to interact with your home accessories

, and Control Centre does too. Two swipes to the right in the Control Centre menu brings up a grid of home accessory toggles.
Most importantly Apple has taken the privacy of their users into consideration. The new iOS 10 has end-to-end encryption, all intelligence and suggestions are happening on-device – there is nothing in the cloud or Apple's servers, there is no user profiling, and all privacy data is not shared between apps. This is great.
Let's discuss:  What they took from others?
Apple has introduced or enhanced many features in iOS 10. On the other hand, they borrowed few features from others. Let's mention few of the features which were there previously in android & co.
3D touch on control center
Car finding application
Apple added sleep analysis to its health app
The Home App (inspired by few functionalities of others)
Magnifier, auto brightness, copy-paste clipboard
iMessage (Snapchat, Facebook messenger)
Apple has made its applications faster in iOS 10, while one major problem continued for users is still they can't delete Apple applications though they can hide them this time.
Let's wait & watch how iOS 10 will perform after its public release next month. Tough Apple's releases are no more exciting as it was a decade back, still by introducing a new version just before launching Apple 7 might help Apple to keep its brand name.
Apogaeis is a market leader in Developing Mobile Applications and waiting to get the updates & reviews after the public release. After stability check, Development Team at Apogaeis will start upgrading exciting iOS applications for iOS 10 & keep building new market winning iOS applications. For more information, you can also visit our website: www.apogaeis.com.