After 8 months of its launch, finally Android 6.0 Marshmallow reached just over 10% of Android devices. It is a huge jump from 2.3% to 10.1% within a short span of 3 months since March 2016. We can either call it a milestone or a big achievement for the Google, But the big question here is "Why Android users are not early adaptors?" If we compare Android with Apple, iOS users are more adaptable as stats shows; iOS 9 (launched 10 months back) is running on 84% of iPhones & iPads. Many can argue on the point that number of users of Apple are less than Android, but remember Google is about to launch Android N in October 2016, the stats of Marshmallow may be good, but not encouraging.
Statistics
This below stats can give us a fair idea about all the Android versions till now & their current user base.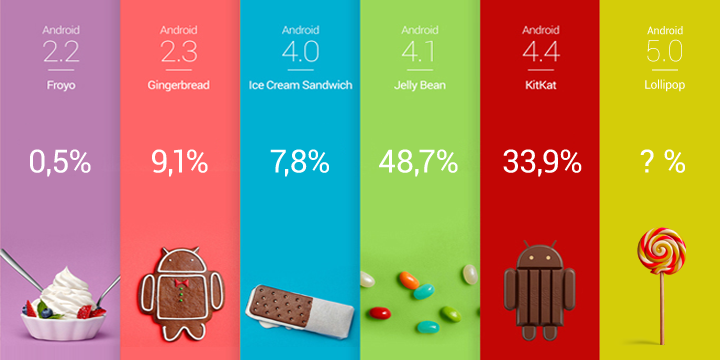 Below are the changes in Android usage between May & June, according to Google's Platform Versions Page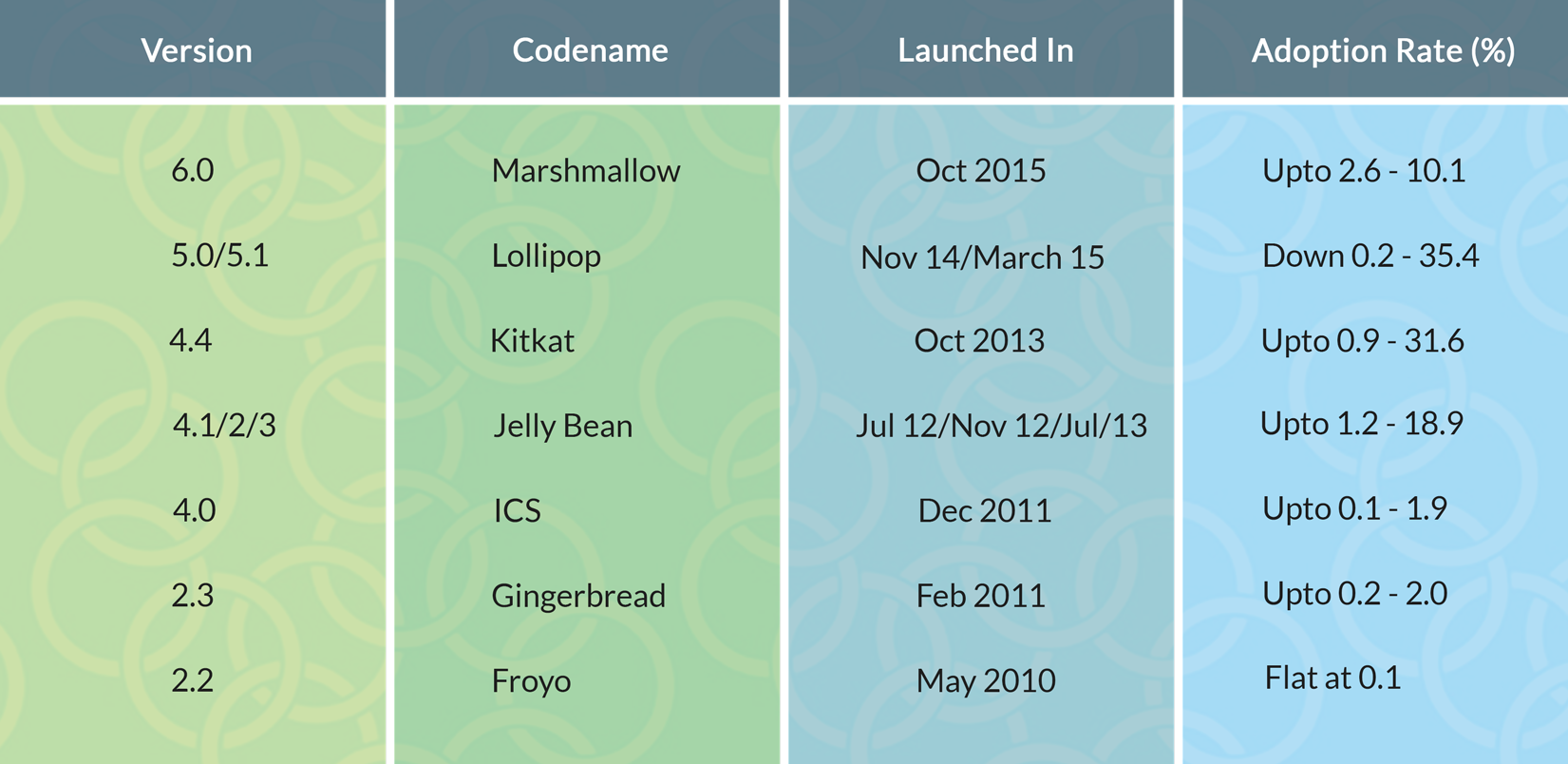 What could be the reason behind the increased stats?
The biggest reason behind the unexpected rise in the number of users of Marshmallow in past 3 months could be:
Most of the latest handsets are coming with the version of Android. But still the number is lesser than other versions connected with Google Play like Jelly Bean, KitKat & Lollipop.
An almost 4 generation old Jelly Bean & KitKat are having 18.9 & 31.6 percent of users. Though Marshmallow can easily exceed Jelly Bean by end of this year, but it will take some time to get pass KitKat & Lollipop. This won't encourage Google much because at that time Android N must be ready to take its position.
Let's check apogaeis stats
Apogaeis is the market leader in developing Android Mobile Apps. We have some amazing stats which can show the market share of each Android versions for few of our own apps. Let's take example of 3 of our Android apps. All the apps are different in nature & are highly successful in their respective industry.
App-1
This Android Application is a well-known App in Education Industry launched under BOOKS & REFERENCE category around 2 years back & here are the stats until June, 2016.

Only 2.11 % Marshmallow users. Froyo was launched almost 6 years back retains 1.87 % of the total user base, it's surprising. Is not it? In the same industry check the stats of Marshmallow among all related apps. It stands at a disappointing 3.39%.
App-2
This Android App is a newly launched (3 months), the one related to E- Book Industry. One can expect Marshmallow to perform better in this app, as it's a recent app. Check the stats.

Yes. The number is good though, but it's getting tough competition from Jelly Bean. We are sure Marshmallow will cross Jelly Bean within next 2 months.
App-3
This App is a market leader in Entertainment Industry having over Half Million installs. This app was launched around a year back & let's see how Marshmallow is doing here.

Disappointed? We too along with our users..
Who is losing?
Whatever it is, Android fans are not getting many common features offered in Android Marshmallow 6.0;
Contextual Assistance
Productivity
System Usability Improvements
Device Setup and Migration
Android for Work
Connectivity
Android Runtime(*ART*)
Spot-on answers
Better Battery life
Privacy & Security
Internationalization
and much more.
What's going wrong?
What is going wrong? Why users are not upgrading their Android devices? Or Are users unable to upgrade? Google needs to look for the answers. Apogaeis did a research on this & have got few possible reasons.
The upgrading process is sometimes very long & frustrating for the users.
Smartphone manufacturers can't upgrade their exciting devices to newer version of Android as soon as it launches. They need to do a lot of research & testing before enabling the updates, they can't roll out the higher version immediately. So current users of those devices have to wait long for the next version.
Big Mobile manufacturers like Samsung introduced Marshmallow very late for its devices, which could be a big reason.
The updates comes only to Google's nexus branded devices as soon as they launch. Nexus is not having a very famous market share.
Unmanaged hardware vendors having less powerful devices.
Customized unmanaged operating systems images requiring more powerful hardware.
No convention/regulation across the community to rollout updates to all users.
What can be done?
What Google should do to make their new versions of Android more user adaptable?
Ideally when an upgraded version of any service is launched, the objective is to increase its usability by slowly removing the older version from the market without affecting market stability & customer base.
Google should make its newer Android versions available easily & quickly to all the mobile device manufacturers without losing more time after its launch.
Mobile manufacturers should adapt the new versions quickly & after proper testing should upgrade its exciting mobile devices or launch new devices with inbuilt latest versions in order to keep their market share.
The big questions are as the successor is all set to launch within few months, where Marshmallow will stand, how quickly mobile manufacturers can adapt, how users will react.
As Marshmallow will complete 1 year of its launch, everyone wants to see how much time it will take to be a market leader. It took Lollipop around 1.5 years. Let's check the stats by end of this October. Anxious..