Innovative technologies are deciding the present & future of businesses since last two decades. Each & every industry is evolving around latest technologies to climb to the top of the ladder. But the digital transformation is not just a technology or a trend, which anyone can learn & implement quickly. It requires leadership, proper strategy & clear implementation.
Businesses around the world are witnessing digital transformation today, but very few are there who has mastered the skill to take competitive advantage. Digital transformation has been the main source to implement, control & manage all the Technological Innovations in the business process. So far, frequently changing technologies & more tech savvy user base are the biggest challenge for many companies. According to a Gartner report, 125,000 large scale organizations are launching digital initiatives. Digital transformation is expected to double from 22% to 46% by 2020.
Many companies are not being able to match up with the competition because they are not digitally transformed. Digital transformation requires leadership & direction. CIOs are responsible for around 40% of the digital transformation in corporate.
It is the CIO who is responsible for any organization's direction towards digital transformation. One research shows 40% of the CIOs are responsible for digital transformation, while only 27% of the CEOs are there in the list. With the innovation of digital technologies, a lot of business leaders are getting things on demand.
Let's see some shocking stats on Global Digital Transformation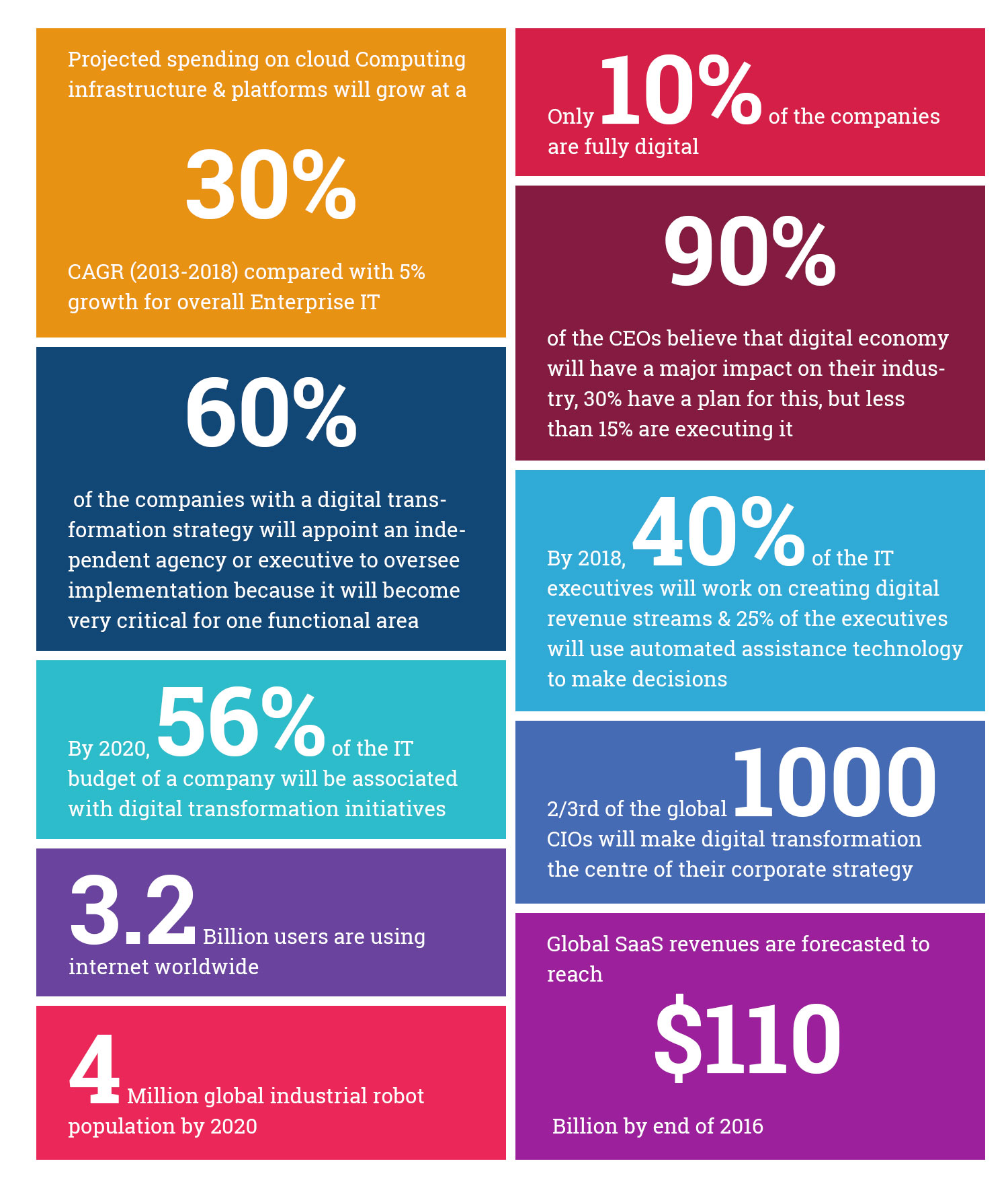 We have taken above stats from various online sources. Many of these stats are surprising, but not unexpected. As digital transformation is gaining momentum and clear initiative taken by corporates are visible, the role a CIO in taking right decisions as well as implementing, and controlling the same becomes even more important.
Role of a CIO
A CIO is the person of any organization behind today's digital transformation initiatives and as well as their approach will decide the future innovations.  But they face a continuous challenge to use the latest technologies and keep on inventing new IT innovations to make the entire business process agile. CIOs are carrying the major responsibility of driving technological change. Those who are not willing to take the challenge to transform their business processes, always carries a risk of becoming an ordinary player in their industry.
Looking at how fast the consumer behaviour is changing and how customer expectations are climbing new ladders, organizations need to ask themselves, how long they can sustain in the market in the impression of someone who is giving just "good" customer experiences.  Here where all eyes come to the CIO. The role is vital, as companies are focusing more on using digital channel efforts on making customer interaction more savvy, engaging & transparent. In short, CIOs are running the global digital show.
Customer experience is now clearly at the heart of digital transformation, and digital is at the centre of that customer experience
Anatoly Roytman, Managing Director, Accenture
So the only option for a CIO is to take the challenge, develop a holistic digital transformation strategy which can help the organization from just a "good" service provider to an "excellent" service provider.
Few CIO Recommendations
Initiate from the Executive level
Digital transformation shouldn't be limited to any specific department or any specific group employees. It should be a strategy, which covers each and every one inside the organization, starting from the executive level. If your employees are not mentally ready or technologically trained enough to accept technological transformations, it is difficult for them to implement your strategies. You need to make a cultural change to succeed in your digital initiatives.
Inspire
CIOs should be very active in identifying organizational challenges & analysing solutions for that. They should be in the driver seat, & lead from the front in implementing ideas. They should inspire other C-suite employees to join in the mission to motivate other employees to embrace it & create an internal digital culture first.
Risk-taker
In business, you have to learn how to take risks. When it comes to digital transformation, it became a necessity. CIO should always keep an eye on ongoing digital transformations & learn how to implement those in their company. Digitally advanced companies don't require top management approval for all the changes. If any new technology comes which can boost your digital plans, they implement it without much thinking.
Invest in Developing a pool of IT professionals
Building future leaders is the most important thing inside an organization. CIO should inspire every tech person inside the company & this is their responsibility to identify the right talent from the pool of employees, & groom them to lead the organization in the future. Continuous training & motivation is essential in this. CIO should calculate the talent gap in the organization & make strategies in fulfilling those.
Drive the Company Vision
As a C-suite employee, it's the job of a CIO to keep the organizational vision in the mind & build a process to achieve that. You need to make sure that the company is moving in the same direction and need to communicate if any digital reforms happen inside the company. To accelerate digital transformation & to keep the organization, its employees, its partners and also all of its customers connected, CIO should follow a standardised core set of technology which can evolve around the business.
Infrastructural Investments
All your digital transformations depends highly on your infrastructural capabilities. So the CIO should make sure the organization keeps on doing IT infrastructure development, so that that should not be a hurdle in any of the initiation. IT infrastructure should be flexible, agile, and cost friendly.
Collaborate & Grow
It is always not possible to develop everything in-house. In the case of digital requirements, you need specialists. CIOs should always keep an eye for right partners with whom they can collaborate & make future strategies. Many CIOs believes it is always safer & cost-effective to hire external specialists rather than developing internally, who can understand your company vision in a boarder sense & have specific expertise to work on it.
ALSO READ : "Heard a lot about IT Outsourcing? Let's See, How to Make a Better Business with it"
Conclusion
Use of technology to radically improve business performances is the top most business objective of many companies. Digital advances such as mobility solutions, social media analytics, business intelligence, network security systems are the need of the time. The objective behind this digital transformation is basically market understanding, top line growth & customer engagement. Digital transformation needs strong leadership to drive the change. CIOs are leading from the front. Whether CIOs develop internal experts or collaborate, the way business processes are executed across the organization, digital transformation provides an opportunity, a golden opportunity to lead & inspire.
Apogaeis is the first choice partner for many global CIOs. We provide that much needed digital stability to your business needs. We empower digital transformation with enterprise mobility solutions, applications, network security systems, infrastructure services and IT consulting. Let's collaborate & transform this world together. Book an appointment now with one of our expert consultants to understand more. Contact Here