The manufacturing industry has recently adopted Enterprise Mobility solutions that enable the manufacturers to increase their efficiency & quality as there is a need of enhancement in the business process. The application of mobile technology in the manufacturing processes is transforming the industry as mobility is playing an important game-changing role. This major adoption is gradually reshaping the landscape by making it agile, efficient & cost effective. According to a survey on 3300, IT professionals in manufacturing sector showed, 70% believed mobility as the key to converting downtime into productive time, recovering a daily average of 40 minutes per employee.
The mobile apps in manufacturing industry are being used as a marketing tool to increase the reach of the business, other customer enterprise apps to enhance internal operations and employee communication. These are just few use cases. All these applications help to drive productivity, cost reduction, enhancing efficiencies and increasing customer service standards. Last two decades are witnessing tremendous global digital connectivity and touching new heights every year.
Over 85% smartphone users prefer mobile apps to websites with over 80% of all smart phone time spent on mobile apps.
 Gartner Reports
Mobility in Manufacturing
Use of Enterprise Mobility in manufacturing industry helps to increase work efficiencies within the organization. Manufacturers are using mobility solutions to enhance the overall productivity of the company. Mobility depends on the types of interaction and the type of manufacturing the company is involved. There are basically three types of verticals in the manufacturing industry – Business to Business, Business to Customer and Business to Employees.
The mobility impact also depends on two aspects in manufacturing industry: Number of Orders and Number of Stocks. In the case of FMCG companies, the volume of products is always high. So Mobility can be used to contact the customer, for sales, to take feedback and to push other related products. In the case of luxury furniture manufacturers, the volume of products are less, it depends on the no of orders they get. Then they customize and deliver it. Here mobility can be used to improve customer relation, market research, for logistics and supply chain.
ALSO READ : "How Mobile Enterprise Applications are helping Telecommunication Industry"
What are the Challenges?
There are challenges in every industry. But that is what makes one market leader differentiate from others. It depends on how you take challenges, make strategies to overcome them and be a winner. The manufacturing industry has many challenges to face. Few of them are;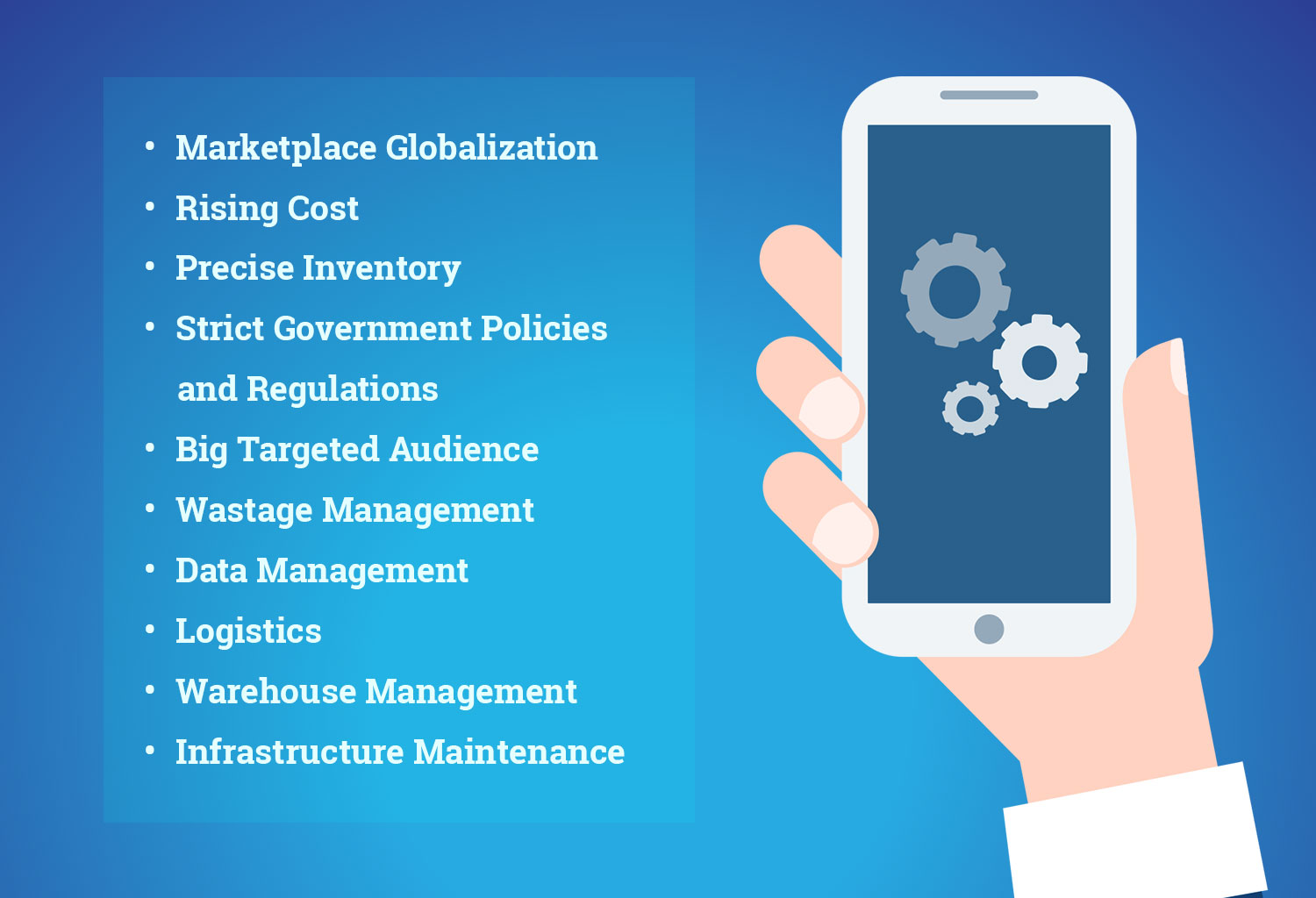 Applications for Mobility in Manufacturing
The manufacturing companies worldwide are always under the hammer to increase productivity & quality, at a reduced cost. To achieve competitive market share, it is essential for manufacturers to match up to the expectations of the customers & business partners. This needs a strategic & innovative technological initiation to become more agile and competitive. An application can provide all these.
Connect Workstations
All most all manufacturing companies have various work stations and manufacturing units. The challenge is to connect all these workplaces. Sometimes it is very difficult to manage the entire operation process, product manufacturing, wastage management, labour management etc. By using Mobile Apps you can streamline all the processes and enhance the overall productivity by providing real time information, data, reports, requirements, stock details, images, training videos, and much more.
Supervision
With the help of Customized Enterprise Mobile App, you can supervise the entire micro level work. More importantly, you can also prepare reports out of that. There are various types of reports you can make, like operations, finance, marketing, human resource, production etc. Reports should be data driven presented in the graphical way. You can easily identify the % of the work completed by end of the week, so that you can plan for the next week work schedule. You can identify the areas which are dragging the production level down, and take take necessary action to cover the gap. This entire process makes things faster.
Increased Productivity
It is proven that mobile apps can increase your overall productivity by 7-10%. You can make the application custom and can monitor each and every department. You can dig all the way deep down to an individual contributor. You can customize the app to track your production units, sales team, logistics team and customer service team. When all the departments start working and communicating properly and connect through a central device, it's easy for you to measure performance and it will help to drive higher productivity. Enterprise Mobility is the only solution to improve individual performance which in turn improves the overall company performance.
If you are not using mobile marketing to attract new customers to your business, don't worry- your competitors are already using it and are getting those customers instead.
Jamie Turner , 60SecondMarketer.com
Manage Partners
When you are a manufacturing company, you must have many partners which are not limited to vendors, channel partners, sales partners. A customized app for various channels helps you to accelerate your revenue by increasing the efficiency. All the stakeholders can collaborate with each other through the app and can communicate easily. Starting from manufacturing to packaging, logistics, sales everything can be controlled through the application. New product update, feature updates, invoice generation, reporting are few of the most important part of this.
Security
When you are running a big manufacturing business, you have a lot of confidential data. It could be financial, text, online details, passwords or anything which can be treated as the revenue adding factor or if leaked could harm company growth and reputation. Security of your data is must, it is not an option. By the use of mobile apps, you can have total control of your entire data. You can track the entire inflow and outflow of your business data. RFID chips, cameras, GPS can be used to make the application robust. This will enhance the entire data security.
Other Ways
There are many other ways manufacturing companies are using mobile apps for their business growth. Check it out;
Mobile CRM Systems for Order Management, Pricing and for Customer Engagement
Inventory Management
Production Maintenance
Communication between Logistics, Supply Chain and Manufacturing Department
Machine (various manufacturing machines) Connectivity
Safety of Workers
Floor Supervision
Material Tracking
Six-sigma Quality Achievement
Mobility for Business Intelligence
Scope and Opportunity
After going through the above content you must have a clear idea about applications of mobility solution in the manufacturing industry. If not, do not hesitate to talk to one of expert at Apogaeis. Initial Analysis and Discussion comes FREE OF COST. You don't even have to share any of your financial or confidential detail. Let's summarize few of those applications here;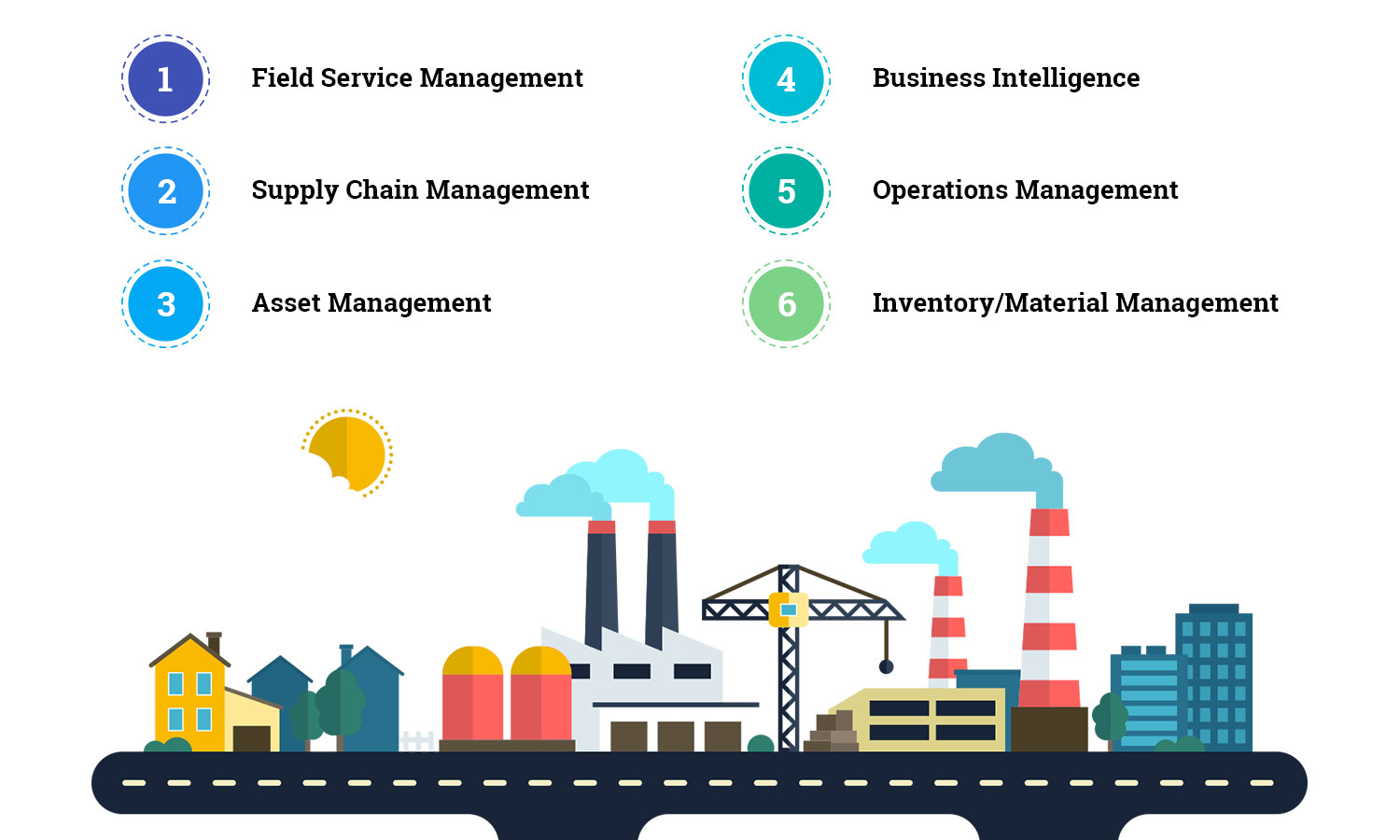 By 2020, most of the manufacturing companies will have a centralized enterprise mobile application. During last 2 decades, manufacturing has come to a transformation, with consumer based mobile applications. As today's business world is getting mobile, any business of any industry who is actively looking for an opportunity to grow, is going for mobile applications. Within next 1 year, 80% of the manufacturer will be actively engaged in implementing mobility solutions for operations optimization & business growth. Mobile apps can help them in Customer Engagement activities & manufacturing companies can increase their reach.
Conclusion
Manufacturers have become more aware and they understood the importance of technological implementation in inventory control, custom service and optimization of their entire operation. Wireless mobility solutions are a key technology for the manufacturing business to improve overall quality, cost reduction and revenue generation with maximum customer satisfaction. Mobility is not just changing current process, but analysing the process and finding innovative ways to improve the productivity.
Apogaeis is trusted technology partner for many manufacturers around the world. We provide end to end mobility solutions which can play a major role in your long term IT infrastructure plans. By implementing mobility solutions today, you take a competitive advantage tomorrow. Click here to talk our Mobility experts now.