Augmented Reality (AR) has turned into a technology from the science fiction stories. This transformation occurred just over the past few years and Augmented Reality is driving innovation and transforming many businesses. Any trend in the technology sector often put a deep impact on business and marketing. The use of smartphones has increased tremendously in the past few years. Business owners and marketers are leveraging these trends to craft innovative strategies to achieve a competitive edge from enhancing marketing communications and taking customer experience to a new height to increase the efficiency of their business operations.
AR is one of the top upcoming game changers which can bring rich, engrossing virtual content and can create a seamless customer experience. Many business verticals are using AR, with retailers leading the way. AR can be leveraged to build a stronger relationship with your customers, increase sales and add value to the customer experience. The future is already here, and it is virtual.
Most of the entrepreneurs have a common question: Will AR be an effective tool for business? How can they use it to revolutionize their business processes? This blog will show you the potential of AR in changing the business scenario of corporate in 2017.
AR Market
As per a report "Augmented Reality/Virtual Reality market is going to expand up to $150 billion by 2020. Moreover, the AR has got the king market share in $120 billion and VR gets only $30 billion."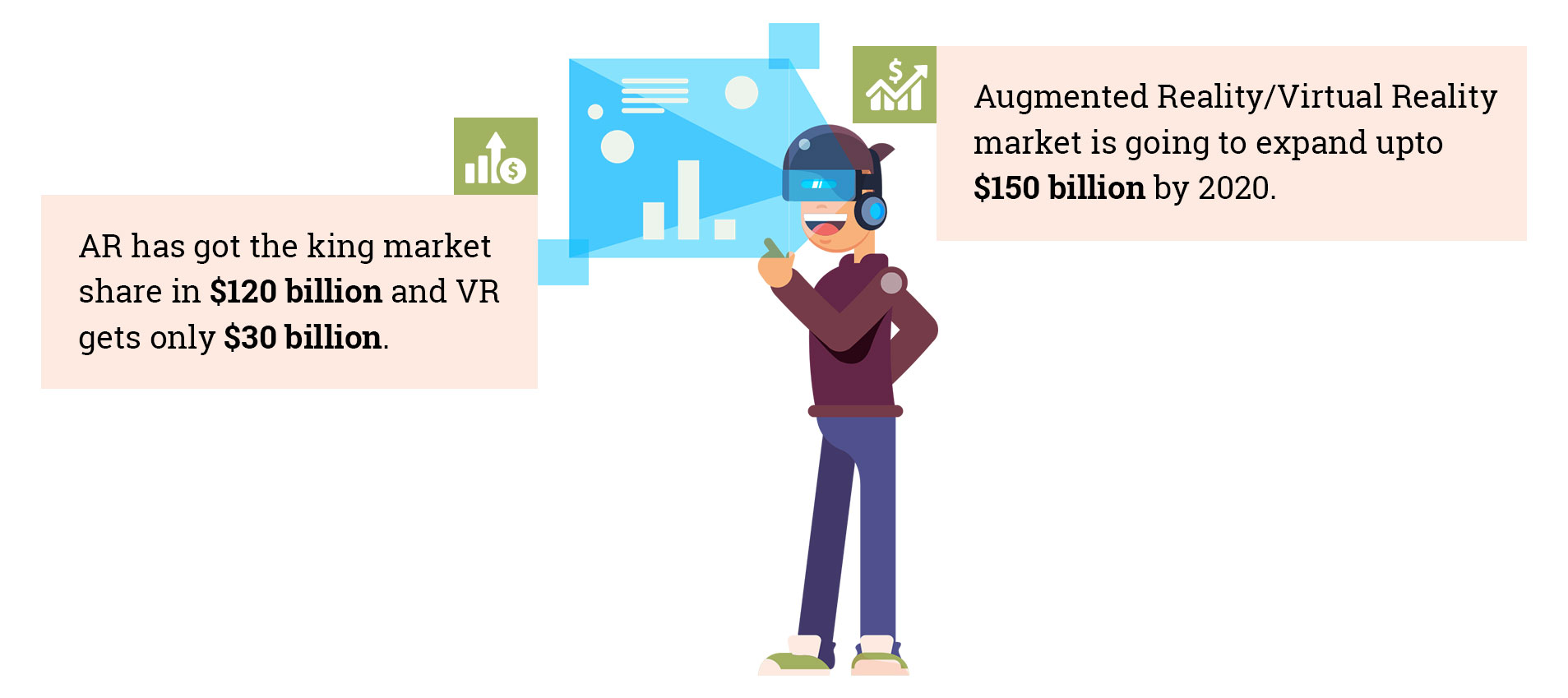 The latest market study shows that enterprises and industrial markets are going to get $2.4 billion in 2019, compared to $247 million in 2014. This is impressive. Businesses are extending their interest towards AR because of the global technology explosion, software enhancements and increased demand of wearables. Adoption will take some time, but it won't stop.
"We are making a long-term bet that immersive, virtual and augmented reality will become a part of people's daily life."
-Mark Zuckerberg, Founder & CEO ( Facebook)
Business Benefits
AR is going to change the shape of business shortly. The most important advantage for business in AR development for smartphones, tablets, and wearables. In the coming few years, various industries are going to use AR as one of their top most technological tools to provide superior customer experience. Many retail companies are introducing AR tools (IKEA already did it) for customers to try clothes without actually wearing it. And all this just with the help of an Android or iPhone AR app.
AR innovations offer new opportunities for a vast amount of market for banking & financial firms, healthcare, retail, and even manufacturing. Let's look into few of the use-cases, which any business consider the most valuable ones.
Business
Both online and offline shopping can be experienced with an AR Android or iOS application. Virtual fitting rooms will help customers choose the right size of apparel as well as the colour combination. This will reduce purchase return ratio. Same in case of choosing a car, or a new home, or furniture. Businesses can also use this technology for promotional campaigns adding AR on supportive materials.
Check this Gartner Report: "Augmented Reality Will Become an Important Workplace Tool"
Education & Training
Training employees with the help of AR technology introduce an immersive, interactive experience across multiple senses, which is far more effective than a typical lecture or simply reading instructions. It brings unlimited possibilities for learning the process. Additional reality provides the unique cognition path with immersive real-life simulations.
With either on screen instructions or layered graphics, users can be shown complex processes step-by-step, or given prompts and instruction on a certain task. Using these methods, AR offers the capability to increase the depth of the training process, while expediting it at the same time.
Travel & Tourism
GPS mobile apps with AR technology can show travelers routes and directions to desirable destinations, translate the signs on the street, give information about sightseeing, provide information regarding nearest hotels/restaurants. Adding a layer of additional reality to ancient places ensures tourists with unmatched cultural experience.
Product Showcase
The evolution of e-commerce has made product showcasing very important. With implementing AR, online shoppers are able to take a complete look of the product they are going to purchase. The experience before purchasing a product will shorten the decision making time & will do quick purchases.
Online furniture Sellers use AR software that allows buyers to place different 3D models of furniture and home decors in their home to see how it might fir in before buying. This allows customer empowerment as well as reduce future expenses to the businesses by minimizing returns.
Visualizing Objects
Another very useful attribute of AR is how it allows virtual objects to be placed in the real world- called visualisation. This offers designers an opportunity to interact with virtual 3D models of their creations as they are real objects. We can take the example of car design. Where drawing up plans for the car design and refine 3D virtual parts can project into their view using an AR headset. One such example is this spatial augmented reality setup used by Volkswagen, in which virtual layouts of a car interior are projected onto a full-size model of a car dashboard.
Visualisation of 3D objects using AR in this way could also offer a better sense of what a finished product would be like than a flat image on a screen.
ALSO READ: "The top 7 Emerging Technologies of 2017 – Without a Shadow of Doubt "
Customer Service
AR has taken customer service to a different level altogether. AR gives an opportunity for customer-facing executives to demonstrate products in a real way to customers. AR glasses could be used. Hardware retailer Lowe's allows customers to explore 3D models of custom-designed bathroom suites using iPads. Customers can explore the virtual 3D environment by walking around the holoroom holding out the iPad, and they can see the virtual space around them through the screen.
Boost Supply Chain
AR can be used in the warehouse to help workers locate any particular product faster, optimize routes, increase worker, workplace and machinery safety and reduce the overall operation process time to a great extent. More large warehouses are using AR because of the unmatchable advantages it brings to the table.
The Best of All – AR in Marketing
Undoubtedly, the best thing AR can bring for your business is – it can redefine your marketing strategies. Technology is something noticeable. You can have more chances to amuse your customers by creating a buzz. As AR campaigns can go viral in no time, the word-of-mouth can work tremendously here. Social sharing can add new customers.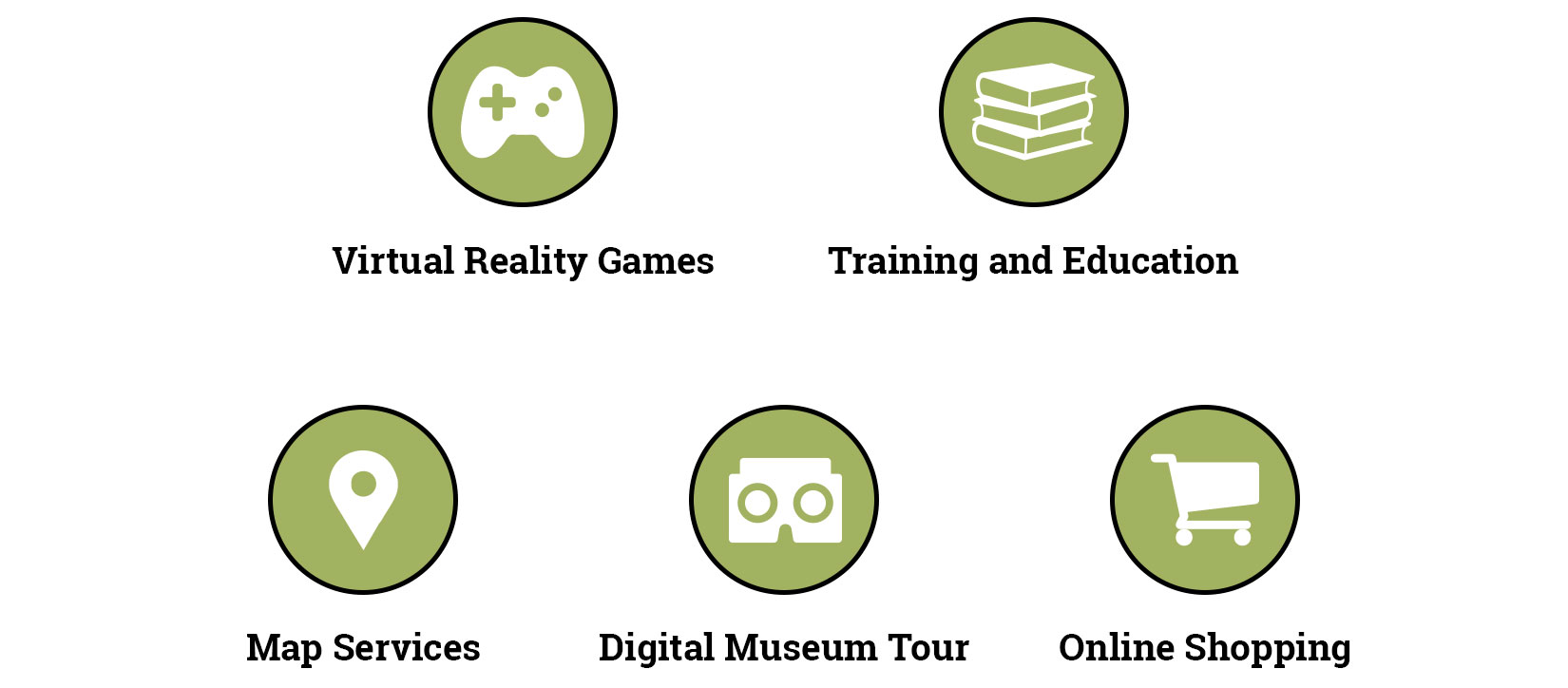 AR can also provide more personalized and engaging services. With AR you can also provide your users a tool for creating the content that they couldn't do before by themselves. The highly exciting content motivates users to interact with your mobile application again and again.
What are we expecting?
We are expecting various tech trends with regards to AR in coming years as several industries are expected to implement the technology in their Enterprise Mobility strategies. Below are few of the future trends to expect in AR;
VR handsets
AR- enabled Marketing Solutions
AR- enabled online shopping
Virtual vacations and test driving
Increase in AR applications for Android and iOS devices
In-built VR feature on mobile devices
Takeaway
The augmented reality technology is still in its initial stage. But we can see its fast development and evolution because of the key drivers as an increasing number of smartphones, tablets, and wearables. As a business owner you should start analysing how you can use AR for your business and draw customer attention or can run a brilliant marketing campaign.
If you are looking for an AR-based application for your business- you must look at AR/VR app development experts like Apogaeis to ensure best possible consultation and an effective, engaging and innovative application. Contact Today to get a FREE CONSULTATION.