Robust & scalable mobile applications have emerged as an unmatched growth factor for many industries, whether you are into hospitality, retail, education, financial or telecommunication. Most of the consumers are performing most of their everyday activities using mobile devices. It is challenging for business leaders to find the right technological tool which can enhance their customer engagement ratio & can help them in achieving optimum growth.
The world is witnessing an astonishing revolution in the telecommunication industry and the industry is set to change the way people are communicating in coming few years. Telecom companies are using latest technologies to give an excellent customer service as well as to achieve the best market share. As mobile service revenue is set to touch $1.1 trillion by 2019, telecom service providers are constantly in search of ways to increase productivity & smooth service delivery.
Enterprise Mobile Application is not a mystery for telecom service providers, but they are yet to discover some of the amazing advantages like Excellent customer service, increased reach, brand visibility, proper monitoring, customer engagement & relation are some of the best aspects of enterprise mobile applications.
Let's discuss in this blog, how mobile applications are proving out to be the game changers in the telecom industry.
Customer Service
Many telecom companies around the world have their own customized service application. We can also call it a service information application. This is the most popular and simplest way for your existing customers & future potential customers to go through your service offerings.
The most important thing in a mobile application is in its ability to provide maximum and relevant information without much complications. The variety of media in an app makes it more engaging for customers and can give you an opportunity to win new markets.
Some of those features are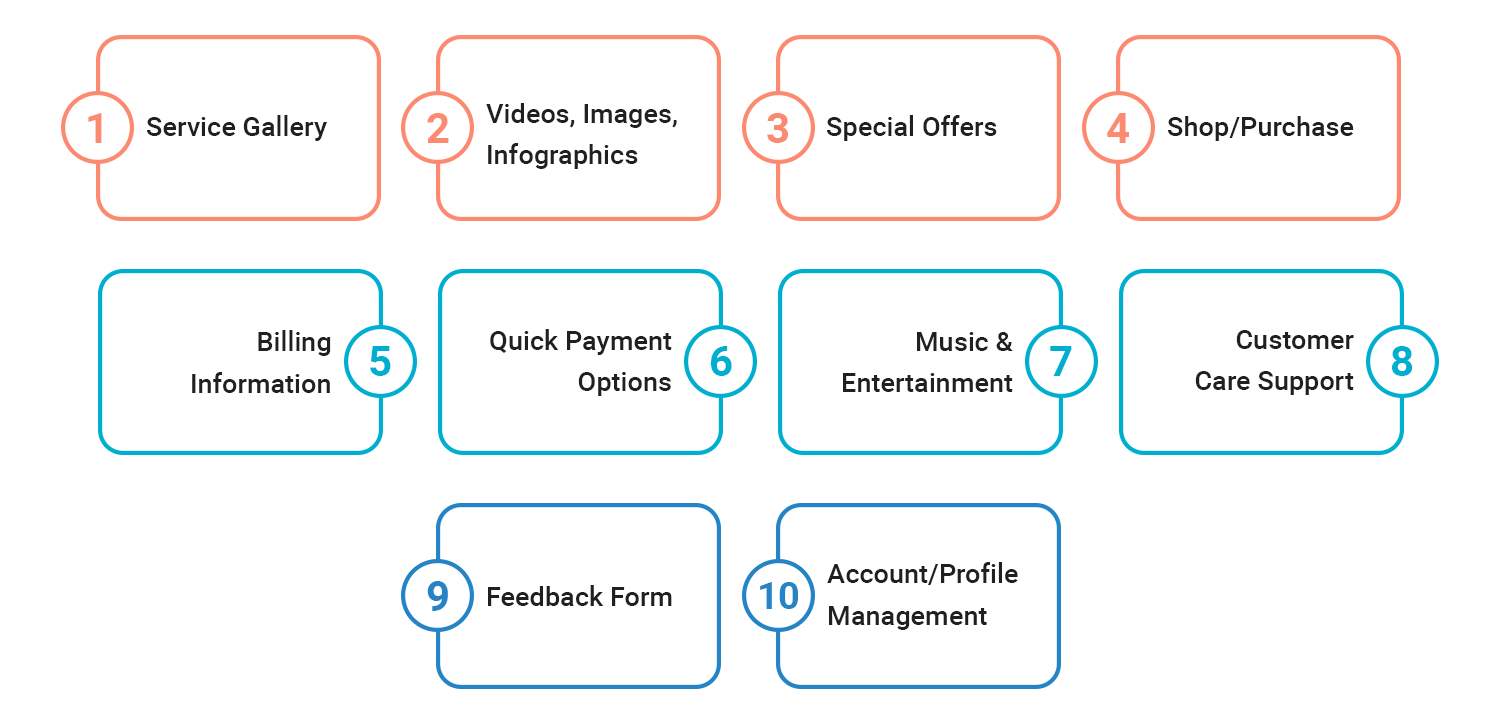 Sales Support App
A sales support app is different from service information app. Apart from thinking about your customers, you should also think about your employees. This app can help your team to understand each and every service, verticals, industries, information etc. in a better way by using visuals and texts.
A sales support application is very useful when your sales team require quick information on your company's sales policies, offers, benefits, features, products etc. The following features in your sales support app will make it more interesting and engaging. Your sales team can be more productive & can quickly convert leads into customers.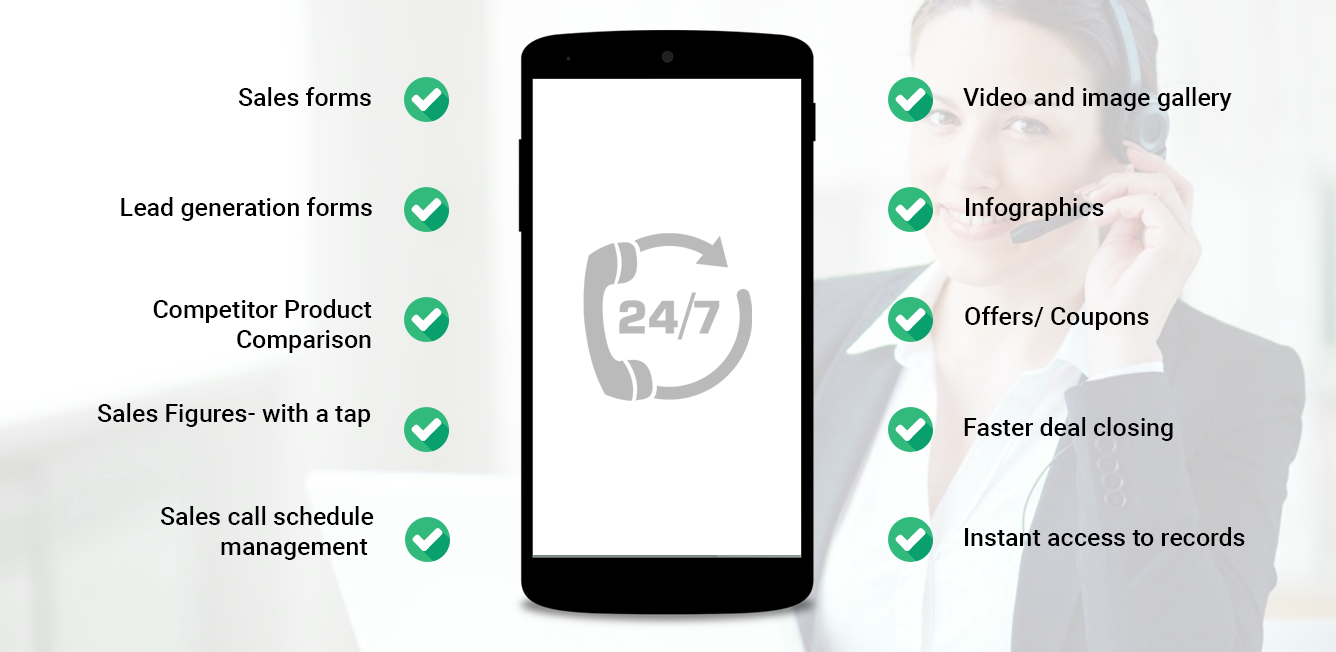 A sales support app can also include sales process, To-Do checklist, and related information so that your sales team know that they are following the appropriate steps when selling to prospects.
Robust Reporting Solutions
Customer service is always on the top list in the service industry. To provide a better customer service, you need best communication tools. In the telecom industry, as the data & target users are high in number, you need to optimize your internal & external reporting tools. It's difficult to analyse a large no of information & share it either with your internal team & your customers. An app can be used to manage, analyse, share correct information in a faster manner. Thousands of newsletters, customer offers, and greetings can be sent with a click. Reporting will be hassle free and you can also send customized reports to specific customers or internal teams.
Reporting applications allow you to create more engaging and useful reports. For better understanding reports can be generated through various formats like infographic, graphs, videos, images etc. Telecom companies are using customized applications for their customers to track & report their voice call usages, data usages, offers, new products etc. in various formats like graphical, images, text etc.
Disaster Management App
Disaster management systems are very much important to continue a business which could face any emergency whether it's technical or environmental or functional.
Irrespective of the nature of the emergency, your workforce must be prepared to continue highly crucial operations. Here disaster management applications prove to be highly beneficial for the businesses. With unique directory feature, this app offers swift and instant access to all the important contacts. You can immediately contact them, thus preventing any further debacles.
Another useful feature in a disaster management app is listings of existing regulations in place for emergency situations and complete with appropriate response plans. These can help employees ensure that they are working in the right direction & following the business plan.
Customer Support App
Customer support is a very integral part of a service industry. A dedicated customer service app can help any telecom company to address their customer's issues and resolve them systematically. 
The app could also allow employees to log issues and deliver reports on what issues have arisen and how they have been resolved. Finally, compliance information could also be included in the app in order to help employees self-assist in the event that they encounter a problematic situation.
Conclusion
As the competition among telecom service providers to provide better & faster service heats up, telecom operators are working continuously to enhance the overall quality of their application to maintain a critical relationship with their customers as well as attract new subscribers. Interactive & intuitive business applications are ensuring some of the greatest advantages for telecom operators. An app ready company can deliver much more optimized service. Churn reduction, improved subscriber acquisition, brand image are another key take away other than additional revenues. In order to feed their customers, they need to regularly introduce additional features & renewable catalogs.
Apogaeis is a custom telecom solution provider. Our custom mobile solutions work to increase productivity, brand value, operational process and also customer engagement ratio. As the mobile apps business in moving and evolving rapidly around the business world, telecom operators that act now stand to reap the significant advantage. Talk to our consultant today to know more about how mobile solutions can provide your business the much-needed push.