When you visit an apparel store to buy your favorite t-shirt, a supermarket to get some fresh vegetables, your favorite restaurant to grab a meal or a next door boutique, one thing is very common in most of the stores, a customer application right inside the store guiding you all the options, color combinations, features, price etc. Retailors are using Mobile Applications as customer loyalty cards. Retail apps comes with seamless operation, beautiful design & it will give you an amazing experience.
If you have started your Ecommerce business & have some amazing stuffs to offer, one retail app with seamless navigation and ease of payment with few other eye catching functionalities can easily convert visitors into customers, customers into repeat buyers and repeat buyers to your brand ambassadors. Mobile apps for business are cost saving and revenue driving forces for leading retail stores.
Apogaeis, an exclusive mobile app development company for retail industry, provides several unique features to give retailers opportunities to reach out target customers, promote products, create brand image and ultimately increase sales. Retail business owners are understanding the importance of mobile applications for their business & they are including it into their business strategy for future growth.
Still thinking!! How an application can transform your retail store? Let us share some more info.
Reach
Still using only website for your business? You must be missing something big, a bigger target audience or may be a bigger conversion rate. In the world of internet and mobility, your business reach is very important. The more you reach to your prospects, the more your turn over. Comparative to website, mobile apps are more user friendly, more flexible, much more responsive & comes with less technical issues. Apps are the simplest communication medium between you & your customers. Imagine your offers, push messages and new arrival reaching to your customers within seconds, without any cost. It's more than a business relation between you & your customers. They feel important for you as a customer.
Opportunity for a bigger Market
Consumers are demanding and looking for more options. They expect all information to be available on a click and at their convenient location and through flexible mode. Consumers are not willing to visit the physical store for any reason and across the retail sectors like shopping of goods/garments, ordering food etc.
Cross-channel networking is the need of the time. Brands are selling through various channels and increasing customer base. Since mobile devices are easy accessible, there is no boundary between your customer's location & your inventory/store. Efficient application of mobile apps and digitalization of physical store could increase the opportunity to penetrate a bigger sized market.
Everyone are doing this: Google it
Your competitors and their competitors are doing this. They have either app for their store or for complete business. It's no more like big retailers have applications, even small stores are having one now for their business.
Imagine two scenarios
Going to your store, spending hours in picking up things. (OR)
Relaxing on a sofa at home, ordering whatever required through your app and getting that at doorstep.
Life can't be easier for a buyer. Mobile app is mandatory for small business or big giant growth. If you want to keep in the race, join the fad.
It's not just shopping- it's a journey, it's an experience
Customers can be more interactive with your brand, through app. Features like reward points, coupon codes, and customized products can really boost your sales. Flipkart runs big billion day, amazon runs great shopping week, fresh menu runs app discount orders, and Uber offers coupon codes for its customers to avail free rides. These are not only marketing strategies, these are business goals, which allows them to give their customers a feeling which is beyond shopping. A journey where they can carry the same set of customers for years. Nothing can stop the users to click on the logo of your business, in the app list of their devices, because it becomes a relation between you & your customers.
Customer Loyalty
A beautifully designed and correctly developed app can significantly increase the communication between you & your customers. It is the simplest way to convey all the messages, deals and custom offers. Push messages are very useful to build a personal bonding with each customer. Market research and reports proof promotional push messages are the new version of traditional Email campaigns & these are much more responsive and effective. Do this – your customers will land on your app time and again. So, app is the latest medium of customer loyalty.
Increased Turnover
The expected M-commerce market size is worth $467 billion by 2019. The market potential is huge. Customer expectation & consumer behaviour are also changing. The one who can understand their customers & how to match the expectation by providing awesome experience, will rule the market. Mobile applications are undoubtedly one of the fastest growing ecommerce segment today. Companies are getting average 60% of their business through mobile apps. It is been proved that the conversation rate is high though a mobile application. Who doesn't like window shopping? Well… Your prospects will land for that at least. Then it's up to you & your marketing strategies how to drive them into potential buyers.
To provide an amazing in-store experience
You have a retail store – Good, as well as you are operating online – Perfect. An app can increase the shopping experience of your customers. Customers can visit your store & check latest collections. They can either purchase that in store or they can book it from the in-store app & get it delivered at their doorstep.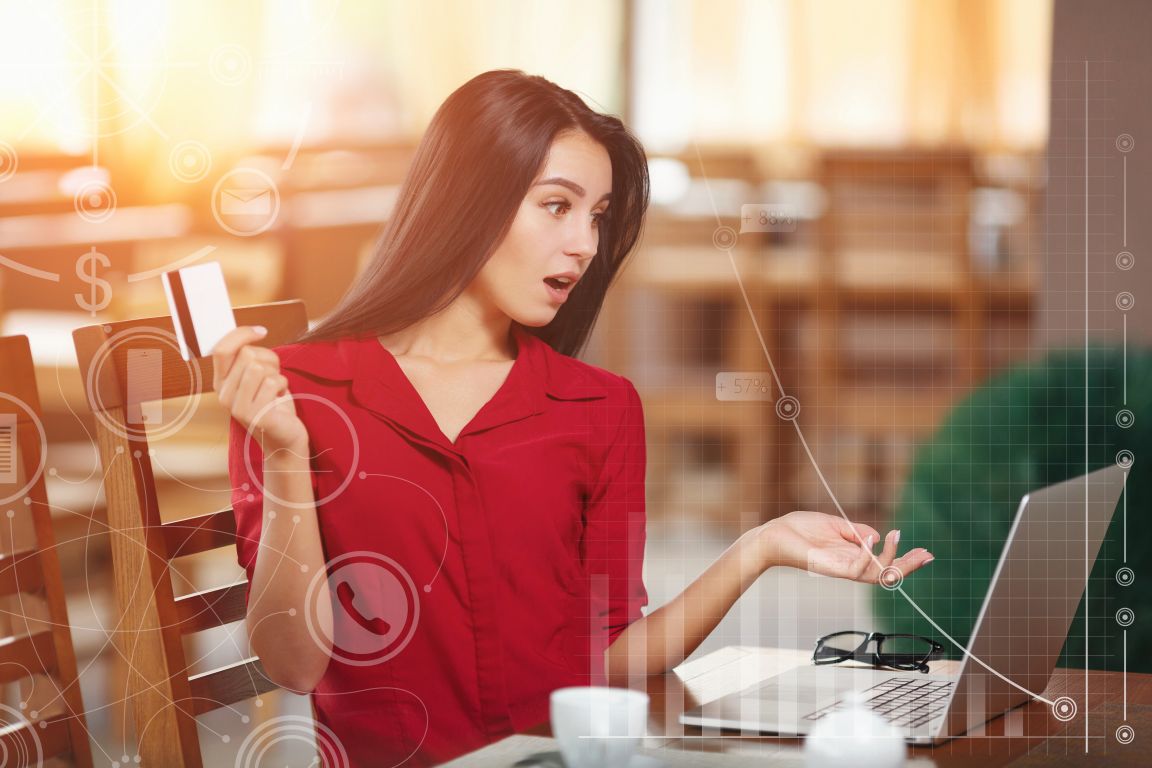 If something is out of stock in your store & available in the other branch, customers can book that from there & item can be delivered at their doorstep too. Don't leave your customers empty hand.
Ease of Payment
Payment can be extremely easier & faster in an app. A fingertip can make payment. It is more secure and convenient.
Adding more Value
Retail mobile app success depends on a lot of aspects, but the core objective should be to offer a product which can add value. Customers need mobile apps which can enhance their shopping experience, add convenience, and reward them for their loyalty to your brand. The applications can increase and drive efficiencies at the in-store level. With the right strategy, retail apps can add value for both shoppers and retailers.
Still thinking?? Let's give your some simple, but effective mobile app USPs for your customers by using your app
To redeem instore offers
Compare pricing & features
View any particular product reviews ratings
Search products and easy listing (customer can view and buy products easily. Think about sponsored listing.)
Item sell promotion (customer feel special)
Earn reward points (customer will come back again to buy)
Referral – customers those are not aware about your services, will buy from you.
Order out of stock product, which is not there in the market
Wish list (Platform reminds customers to buy items when right time come. They quickly purchase.)
Friends opinion before purchase
Free advertisement and marketing on social media, if customer was delighted.
Last, but not the least Customer Satisfaction
Word of mouth. Still the best way of promotion. If you can give best experience to your customers, they can refer you to many. Your campaigns can get more attention, more reach as well as more conversions. Positive review or feedback of our brand, can take you to thousands of new customers.
Some Amazing Stats
Who thought few years back that Walmart, Starbucks and Amazon will use an app for the business. They are market leaders in their respective retail chain, still they revised their digitalization strategy looking at the need, & they succeed big time. Their apps are giving them good sales numbers. Look at the few stats of the US;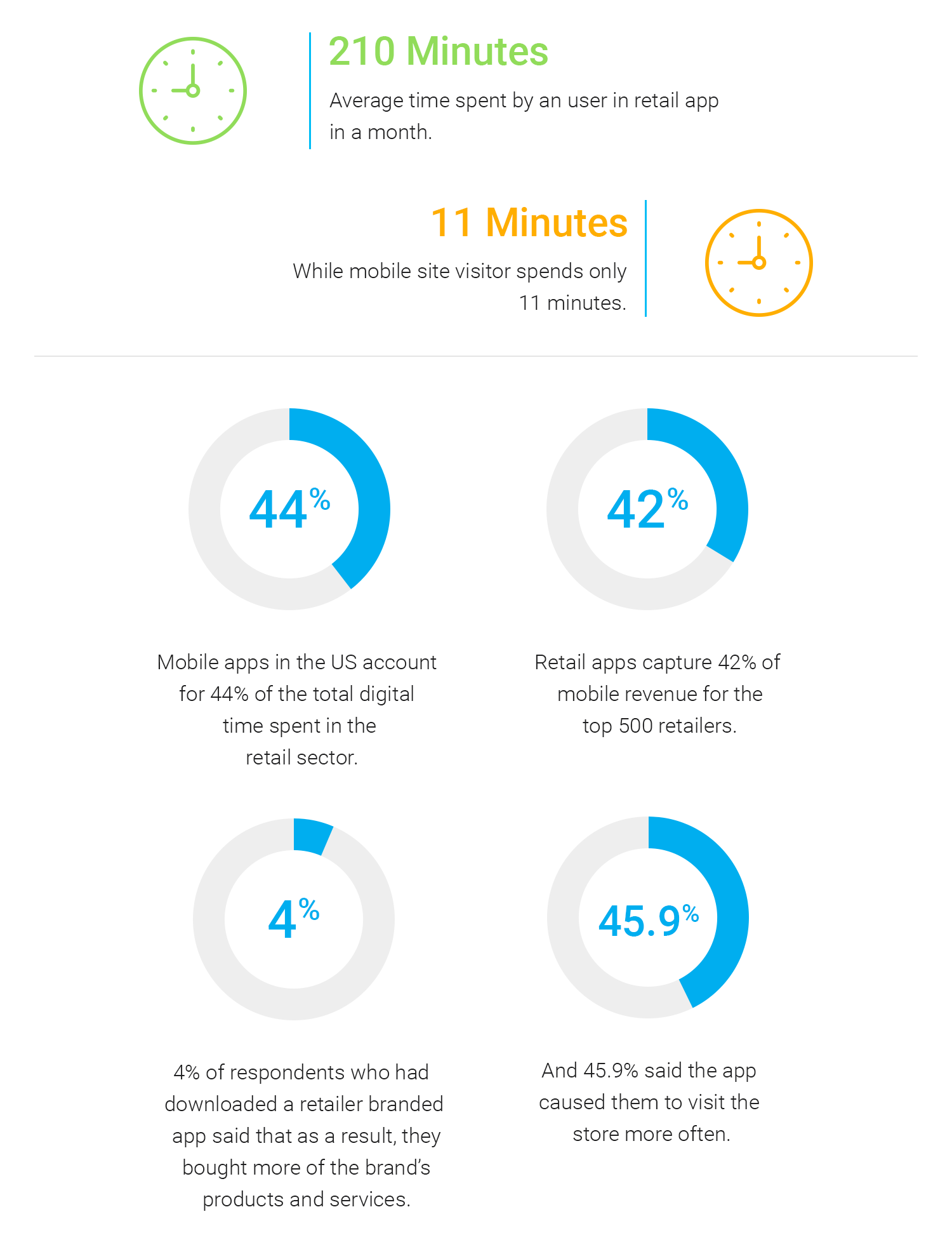 (Stats taken from the research paper submitted by Dan Kosir, a Senior Marketing Manager)
Apps now generate about half of all mobile sales for retailers who have made their app experience a priority.
Mobility is the present & undoubtedly the future of communication and the most convenient way for shopping. When you give your store a digital touch, it enhances customer experience and satisfaction. Mobile apps can improve in store and online shopping experience by offering a more personalized shopping environment.
Apogaeis is one of the top notch retail solution provider. Our clients speaks our success story. We offer end to end retail solutions as well as customized mobile apps. Are you ready to start the digital journey for your retail business? Let's talk about your dreams. Contact Here.