In 2016, the most incredible thing happened was the way mobile apps evolved to become a primary source of information and communication for most of the businesses. It was a game changing year where several businesses have built jaw dropping apps and witnessed the growth of revenue. According to a recent SurveyMonkey report, global mobile apps revenue are expected to grow by 962.5% between 2011 and 2017 ($8 billion vs $77 billion). 2017 is going to be a ground breaking year where more than 50% of the small businesses want to build more mobile apps.
There will be a total 6.4 billion gadgets connected worldwide by the end of 2016. This includes tablets, smartphones, iPads, laptops, desktops, Internet of Things, wearables and other smart devices.
iTunes and Google Play Store have more than 4.3 million mobile applications together. Development methodologies and techniques are constantly evolving to match the requirements of users. While 2016 was a great year for mobile apps, let's take a look at the most important app development trends to keep an eye out for in 2017.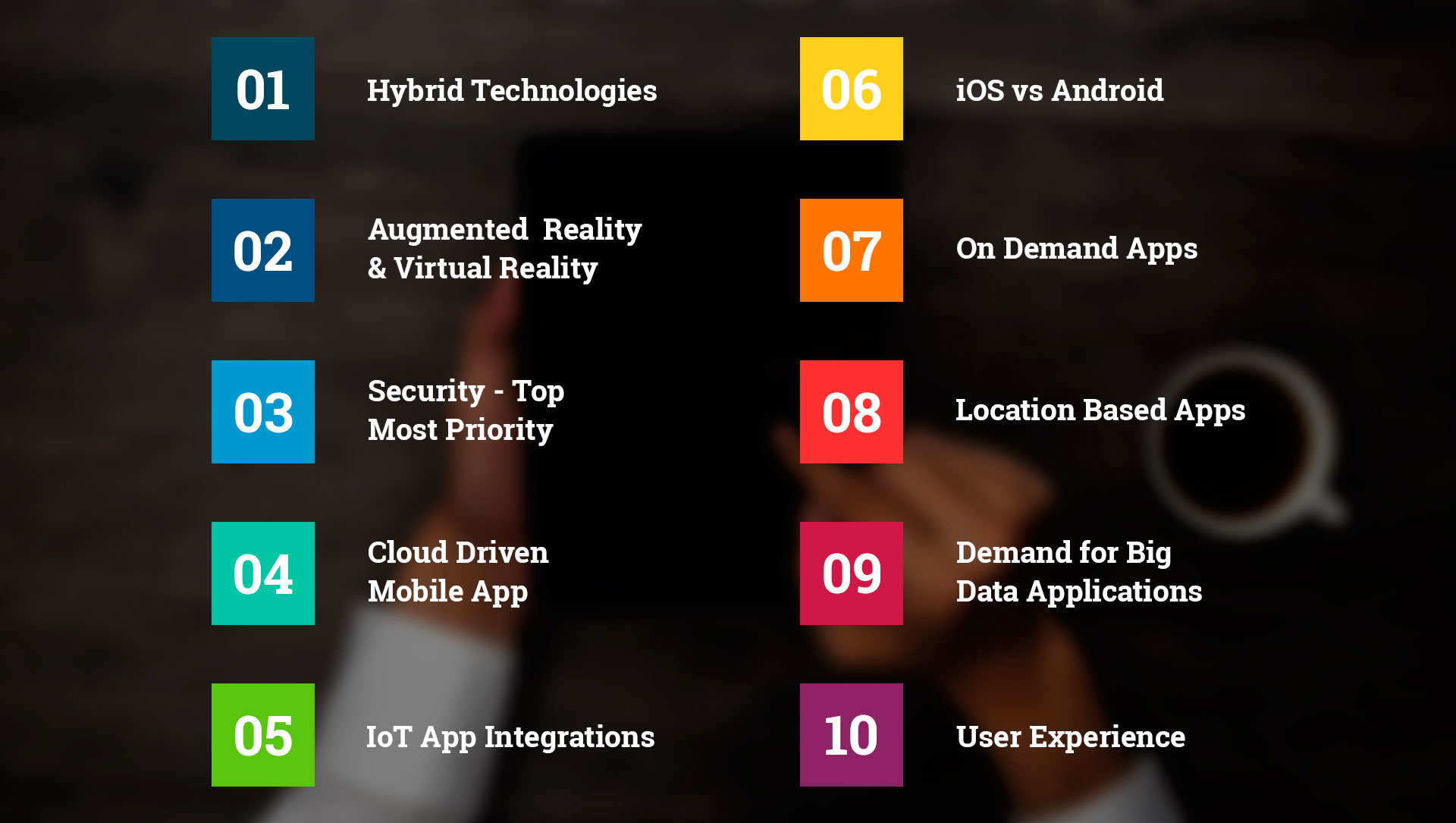 Hybrid Technologies
By 2016, every 1 out of 2 companies across the globe already uses enterprise solution. This is expected to grow in 2017. Hybrid development technologies will carry a particular importance in this context. Tools like AngularJS, Sencha Touch, Kendo UI, IONIC, Appcelerator Titanium, and Cordova are going to be used more frequently for agile hybrid app development. Hybrid app development can play a very important role in Bring Your Own Device (BYOD) practice on a global scale. It has been predicted that the overall demand for mobile applications will be 5 times more than the combined supply capacity of developers. A big challenge is on the way for the latter.
Augmented Reality (AR) and Virtual Reality (VR) Magic
2016, saw a new era of technology with Augmented Reality. The popularity of Pokémon Go broke all time mobile app gaming records. After that many apps have started putting AR into use and we are expecting this trend will witness new innovations in 2017. With the help of AR tools, integrations like social media syncing, location tracking can be made more productive for businesses.
Top technological RandD companies like Microsoft, Google, Oculus (Facebook), and IBM are spending billions in the VR/AR market. It's estimated that the AR/VR market will grow to $162 billion by 2020. That's nearly 181% annual growth.
Security- Top Most Priority
In June 2016, 32 million twitter accounts were hacked. Cyber-attack is constantly raising and affecting popular websites. There will be around 4.77 billion smartphone users by 2017. The amount of data transfer will be huge. Smartphone app security has become sensitive than ever before because of the amount of data. Apps with inbuilt security features can make a difference, either at the API level or with a change in the code to access the app.
In order to overcome such security issues, app developers have to add more secure two- factor user authentication and strict protocols while storing personal information, especially financial information. In 2017, expect app security to be right at the centre of attention for app makers.
Cloud Driven Mobile App
Cloud Technology is one of the most popular technological buzzes. This technology has changed the way SMEs were working. Now cloud computing has finally found its root in mobile apps. We can expect powerful mobile apps which can fetch data from cloud and take minimal space in your smartphone memory. With the extensive use of cloud based apps, both integration and multi device synchronization of apps will become more seamless. Cloud technology will help developers to shorten the overall app development cycle.
Globally, cloud apps will drive 90% of total mobile data traffic by 2019, and Mobile cloud traffic will be 11-fold with compound annual growth rate (CAGR) of 60%.
Cisco Report
IoT App Integrations
It is estimated that by 2020, there will be 21 billion connected devices. So, as wireless solutions are evolving at a faster pace. We can expect many more connected devices and IoT exploring mobile apps in 2017. IoT will grow from 157.05$ billion in 2016 to 661.74$ billion by 2021, at a Compound Annual Growth Rate (CAGR) of 33.3%. Many businesses in the field of healthcare, retail, education, financial and more have all started integrating IoT advancements keeping it in mind during the development of apps. Users demand easy data access in their devices. So, developers will come up with some astonishing solutions that can tie up many individual appliances at home and apps in the market into a single integrated user experience.
iOS vs Android
We all know Android has a big lead over iOS as far as market share is concerned. But when it comes to revenue, iOS is ahead. In 2017, Android will try to strengthen its position as the market leader in terms of device share and revenue. By the end of 2016, Android had a market share of 87.6%, on the other hand, iOS is still more profitable than Android.
In the field of mobile games, iOS as expected held the upper hand over Android. However, things are highly expected to change in mid-2017. For the very first time ever Android can over take iOS in the case of mobile games. The total mobile gaming revenue can touch $72 billion by 2021 and Android will establish itself as the most profitable game ecosystem.
2017 can see very interesting competition between iOS and Android.
On Demand Apps
The last couple of years witnessed the evolution of on demand mobile apps. Uber, Airbnb, Instacart have changed the definition of customer service. Customers demand all the services at their doorstep via mobile apps, whether it is food, grocery or cabs. The demand of enterprise apps has seen new growth in 2016. So, there is a high expectation from this segment in 2017. Analysing current scenario, on-demand apps will bring more speed and efficiency to the customer service system. So Mobile app industry will see more and more on-demand app development for various service providers.
Location Based Apps
The popularity of utility apps was immense in 2016. Location based services have been in use largely for searching, tracking, ordering etc. It made lives easy. With the growing dependency on GPS, this trend will continue to evolve and give users real-time information.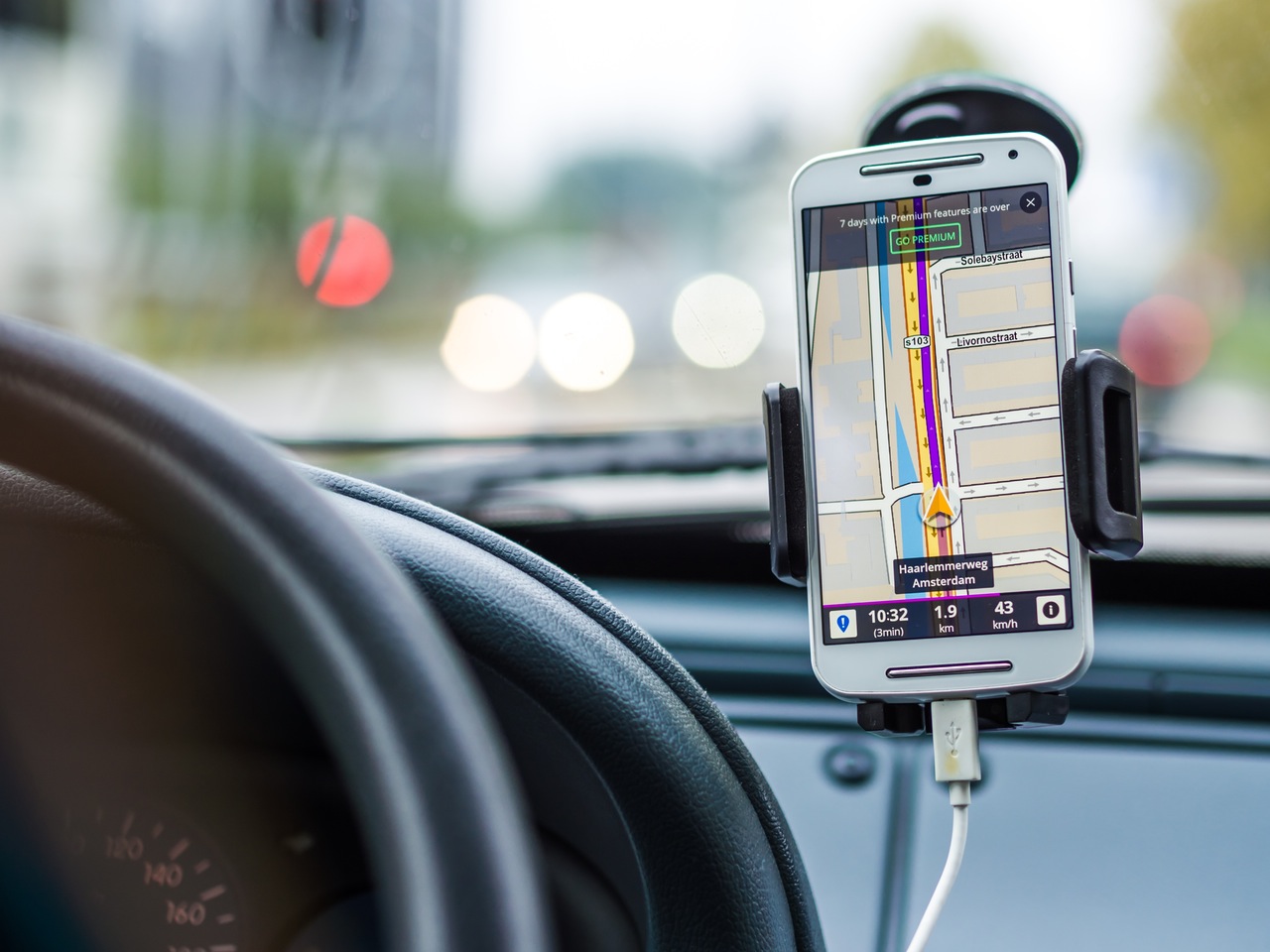 Travel and tourism, security service providers, payment portals and many more industries are planning to integrate location based apps for their business expansion and customer satisfaction.
Demand for Big Data Applications
You simply can't ignore Big Data in any type of technological discussion. A recent survey revealed that 76% of the enterprises are all set to implement big data tool more in 2017. Big data is already a part of mobile apps. As it's all about fetching, storing, analysing and using right data, market stats have become more crucial. Business decisions are based on those reports. Mobile app companies are thinking to market their apps with the help of data analytics to increase their customer reach. Experts are expecting more advancement in data analytics, so that it can be used for managing the app and presenting it in a more personalized way.
User Experience
Not only in 2017, but in every passing year, the importance of user experience is very important. This is the prime focus area of any mobile app. In 2017, UX will dominate mobile app development trends. Users will demand more innovative ideas from the designers to build a user friendly application.
Wrapping up the Topic
When it comes to mobile app trends, all you need is not to miss any opportunity. You need skilled developers who are always up to use latest technologies and build an app, which can serve all the needs of a user. 2016 witnessed a host of potential mobile apps and highly talented Mobile App Developers , and 2017 has a bucket full of mobility innovations. If you are a business owner and you have gone through all the above points thoroughly, but don't know how to implement, we are here to help you out. We are a team of android and iOS mobile application developers developed a lot of innovative and user centric mobile applications for all kind of industries and businesses.
We will give your idea a mobile touch. Contact Us for a FREE CONSULTATION. We will discuss your idea and share our thoughts.
Useful Read : "A Mobile App for a Smarter Business – How It can Increase your Productivity"